John David Dingell, Jr.
House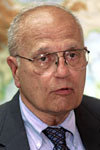 Birthdate: July 8, 1926
Birth Place: Colorado Springs, CO, United States
Residence: Dearborn, MI
Religion: Catholic
First Elected: 1955
Gender: Male

Candidacy
Party: Democratic
State: Michigan
Office: House
District: District 12

Education
Graduate: Georgetown University
Degree: JD

Graduate: Georgetown University
Degree: BS

John Dingell was born in Colorado Springs, Colo., and currently resides in Dearborn, Mich. He earned both a bachelor's degree and a law degree from Georgetown University.
Dingell served in the Army during World War II. He worked as a research assistant to U.S. Circuit Judge Theodore Levin. Dingell was assistant Wayne County prosecutor from 1953 to 1955.
Dingell was elected to the U.S. House in 1955 in a special election to fill a vacancy caused by the death of his father. He began congressional service on Dec. 13, 1955, and has been re-elected ever since.
Dingell celebrated his 50th year in Congress in December 2005 and is the longest serving current member in history.
Dingell and his wife, Deborah, have four children.
Profile
John Dingell is 87 and the longest serving current House member. He has never been known to shy away from a fight in more than five decades in Congress.
Dingell has continued to advocate for his home state's auto industry, a major expansion of health care and local issues important to his district near Detroit.
When the U.S. auto industry faced tough times, Dingell pressed for government support of General Motors and Chrysler to stabilize the carmakers during the economic downturn.
He pushed for the funding of $25 billion in government loans to help the industry revamp their assembly plants to build green vehicles and meet tougher fuel efficiency standards. With GM and Chrysler on the brink of bankruptcy, he helped the companies secure billions in government loans to stay afloat.
Dingell led the House Energy and Commerce Committee from 1981 until 1994, when Republicans took control of the House, and then in 2006 and 2007, until he was ousted by Rep. Henry Waxman.
He was tasked with helping Democrats push through an expansion of health care, a key part of President Barack Obama's agenda.
He has also been attentive to his district and home state. He has targeted the reduction of the influx of Canadian trash into the state's landfills and pushed for measures to conserve wetlands.
Dingell supported a timetable for a withdrawal from Iraq during the George W. Bush administration and was supportive of Obama's push to remove combat troops by August 2010. He had been very critical of Bush's decision to go to war in Iraq.
Source: Associated Press