John Forbes Kerry
Senate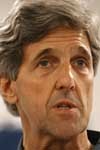 Birthdate: Dec. 11, 1943
Birth Place: Denver, CO, United States
Residence: Boston, MA
Religion: Catholic
First Elected: 1984
Gender: Male

Education
Undergraduate: Yale University
Degree: BA

Graduate: Boston College
Degree: JD

John Kerry was born in Denver, and resides in Boston. He earned a bachelor's degree from Yale University and a law degree from Boston College.
He volunteered for the Navy, serving from 1966 to 1969. Kerry was awarded three Purple Hearts, a Bronze Star and a Silver Star for his duty aboard warships off Vietnam. Kerry later helped found Vietnam Veterans Against the War.
Kerry lost a run for Congress in 1972. He was elected lieutenant governor of Massachusetts in 1982.
He was elected to the Senate in 1984.
Kerry won the Democratic nomination for president in 2004, but lost the general election to George W. Bush.
Kerry and his second wife, Teresa Heinz, have between them two daughters and three sons.
Profile
John Kerry's name was mentioned as a candidate for secretary of state following the 2008 presidential election. Though the post went to Hillary Rodham Clinton, Kerry ended up with another benefit from the election: Joe Biden's victory as vice president opened a seat for Kerry to become chairman of the Senate Foreign Relations Committee. In 2012, his name has again been mentioned as a possible secretary of state pick if President Barack Obama wins re-election.
Kerry has been a high-level go-between for the Obama administration, helping broker agreements with Afghan President Hamid Karzai while simultaneously trying to push climate change legislation through Congress. He shepherded a new arms control treaty with Russia to Senate ratification over conservative opposition in December 2010. He has served as an unofficial negotiator with Afghanistan and Pakistan. More recently, he has led what looks like a quixotic fight for a treaty governing the seas that the administration hopes the Senate will approve by the end of 2012.
He made a unique visit to the Middle East in February 2009. His visit to the Gaza Strip was the highest-level visit by a U.S. official since Hamas seized control, but Kerry said his time there did not signify a change in U.S. policy toward the Palestinian militant group and urged them to end the region's violence.
On the domestic side and in light of the economic downturn, Kerry proposed legislation in February 2009 that would restrict banks that received government funds during the 2008 Wall Street bailout from hosting, sponsoring or paying for conferences or entertainment events.
More recently, he has pushed for federal funds for fishermen whose livelihood has been threatened by strict federal fishing rules. He also had a prime speaking slot at the 2012 Democratic National Convention.
There was speculation that Kerry would seek the Democratic nomination for the presidential race in 2008, but he opted out of the race, saying he would focus his attention on the war in Iraq.
Criticized for his fuzzy stand on Iraq, Kerry in October 2005 made headlines with his call for a phased withdraw of U.S. forces from Iraq by the end of 2006.
Kerry waged an occasionally awkward, run-walk-run campaign for the presidency in 2004, a marathon bedeviled by his slow start and a lumbering response to attacks by the Swift Boat Veterans for Truth, a group of Republican-funded Vietnam War veterans who had patrolled the same Mekong Delta in swift boats similar to the ones piloted by then-Navy Lt. Kerry.
By mid-August, Kerry's spit-and-polish image was being challenged by the Swift Boat group, which was challenging his accounts of medal-winning service and anti-war protesting. Although the charges later turned out to be largely unsubstantiated, Kerry let others defend him while the campaign saved its ad money for later.
In September 2004, Kerry started to battle back with a pair of speeches signaling he wouldn't shirk from battling the president over terrorism and Iraq. With a steady hail of evidence of job losses, troop deaths and budget deficits, he tried to dent President George W. Bush's repeated assurances about the conflict. Exit polls showed he attracted some enthusiasm but couldn't throw off the flip-flopping mantle.
Kerry's grasp on Washington politics has been honed by his tenure in the Senate, and he vowed to "fight on" after losing the 2004 presidential race.
Source: Associated Press