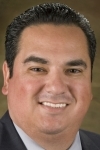 Birthdate: Aug. 6, 1969
Birth Place: Albuquerque, NM, United States
Residence: Fresno, CA
Religion: Catholic
Gender: Male

Candidacy
Education
John Hernandez was born in Albuquerque, N.M., the son of a railroad worker. He moved with his parents to Fresno in 1988. He attended Fresno City College before moving on to Fresno State University, where he earned a bachelor's in history in 1996.
He worked his way through college at Food Maxx, where he was a member of the United Food and Commercial Workers.
After graduation, he worked for 10 years in the insurance industry and was elected president of the Central California Hispanic Chamber of Commerce in 2004.
In 2006, he took over management of the chamber as chief executive officer, his current post. A main accomplishment of his tenure has been launching an annual job fair that attracts 12,000 attendees and 200 employers. The job fair has won several awards from Fresno County organizations.
Hernandez has also received numerous personal awards for his civic work.
He and his wife, Karen, live in Fresno County. He has a grown son.
Profile
John Hernandez has never held political office. He ran unsuccessfully for the 19th Congressional District in 2000.
The main platform of his 2012 campaign is economic development and bringing jobs to what he has said is the poorest congressional district in the country.
Hernandez says that if elected he will work to steer federal funds to the district for infrastructure projects, including high-speed rail. He says the the rail project would create construction jobs and stimulate tourism and economic development that would create more employment opportunities.
Hernandez also wants to stimulate green energy projects to spur job growth, as well as protect the environment.
He has pledged to support immigration reform and the Dream Act and work to protect Social Security, Medicaid and Medicare.
He said he opposes any state regulation of water supply, a key issue in the farm-heavy San Joaquin Valley.
Source: Associated Press