John James 'Jimmy' Duncan, Jr.
John James 'Jimmy' Duncan, Jr.
House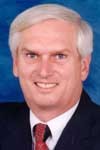 Birthdate: July 21, 1947
Birth Place: Lebanon, TN, United States
Residence: Knoxville, TN
Religion: Presbyterian
First Elected: 1988
Gender: Male

Candidacy
Party: Republican
State: Tennessee
Office: House
District: District 2

Education
Undergraduate: University of Tennessee
Degree: BA

Graduate: George Washington University
Degree: JD

John J. Duncan Jr. was born in Lebanon, Tenn., and raised in Knoxville, where he still lives. He earned a bachelor's degree from the University of Tennessee and a law degree from George Washington University.
Duncan served in the Tennessee Army National Guard and the U.S. Army Reserve. He practiced law from 1973 to 1981 and was appointed a state criminal court judge from 1981 to 1988.
Duncan was elected to Tennessee's historically GOP 2nd District seat in 1988. He succeeded his father.
He has compiled an extensive collection of political memorabilia from his and his father's career. It includes items from Air Force One, a white elephant once owned by U.S. Rep. Howard Baker Sr. and 22 wooden eggs from White House Easter egg rolls.
Duncan and his wife, Lynn, have four children.
Profile
John J. Duncan Jr. is a conservative who almost always backs Republican leaders. He joined his GOP colleagues in voting against the 2010 health care reform bill backed by President Barack Obama and the financial overhaul.
Duncan has been identified by the National Taxpayers Union as one of the most fiscally conservative members of Congress. He often complains about excessive government spending and opposed the 2009 approximately $800 billion economic stimulus package.
A defining moment for Duncan came in 2002 when he was one of only six House Republicans to oppose a resolution giving President George W. Bush the authority to go to war with Iraq. He called it the hardest vote he ever made.
Duncan stood by his position on the war and in 2007 was one of the only Republicans in the House to oppose Bush's troop increase in Iraq.
Duncan also has voted his own way on trade legislation, which political observers say may have cost him a top leadership job. He was a leading candidate to become chairman of the Natural Resources Committee, which would have given him oversight of federal lands. Instead, the post went to a less senior lawmaker.
"I can't just surrender my voting card because it could help me get a chairmanship down the road," he said.
He has been as keen as any lawmaker about getting federal funding for projects back home, including a veterans' home for East Tennessee and money to fix the Chickamauga Lock on the Tennessee River.
As the former chairman of the Transportation and Infrastructure subcommittee on water resources and the environment, he successfully fostered legislation that allowed the re-licensing of four hydroelectric dams in Tennessee and North Carolina, preserving about 2,000 jobs at Alcoa's aluminum smelting operation in his district. The deal included land swaps and non-development easements that would protect more than 10,000 acres in the Great Smoky Mountains.
Duncan also chaired a subcommittee dealing with aviation issues and helped write aviation security law enacted after the Sept. 11 terrorist attacks.
He joined a bipartisan group of 10 lawmakers who sued Obama for taking military action against Libya without war authorization from Congress in June 2011, and in 2012 he voted against funding the Census Bureau's American Community Survey. "It seems to me that is Big Brother type of government," he said.
He was criticized by Citizens for Responsibility and Ethics in Washington for paying $7,600 in campaign funds to family members. An aide defended the expense as a bargain price for financial disclosure filings in March 2012.
Duncan is a member of the Congressional Immigration Reform Caucus and the Congressional Friends of Scotland Caucus.
Source: Associated Press