John Jenkins Barrow
House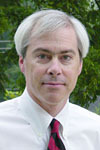 Birthdate: Oct. 31, 1955
Birth Place: Athens, GA, United States
Residence: Savannah, GA
Religion: Baptist
First Elected: 2004
Gender: Male

Candidacy
Party: Democratic
State: Georgia
Office: House
District: District 12

Education
Undergraduate: University of Georgia
Degree: BA

Graduate: Harvard University
Degree: JD

John Barrow was born and raised in Athens, Ga., and currently lives in Augusta. He earned a bachelor's degree at the University of Georgia and a law degree at Harvard Law School, graduating in 1979.
Barrow clerked for federal judges in Savannah and Tampa, Fla. He returned to Athens in the 1980s and was a partner in the law firm Winburn, Lewis, Barrow and Stolz.
Barrow was a personal injury lawyer until being elected a Clarke County commissioner in 1990.
He was elected to the U.S. House in 2004.
He is divorced and has two children.
Profile
John Barrow's narrow defeat of an incumbent Republican congressman was a rare victory for Georgia Democrats in 2004, and the self-described "flaming moderate" has had to fight off challengers from both parties ever since.
Republicans saw the 2012 campaign as their best shot in years at toppling Barrow, who started the year by moving to Augusta after the congressman's home _ and political base _ of Savannah was cropped from his east Georgia seat during redistricting. The changes essentially replaced urban black voters with rural and suburban whites, a move aimed at giving Republicans a demographic edge.
Redistricting also helped ensure Barrow was unopposed in the July 2012 Democratic primary. It was the first time Barrow avoided primary opposition since 2006.
When he last faced a fellow Democrat in the 2010 primary, Barrow had to fend off criticism from party leaders angered by his vote against the 2010 health care reform bill backed by President Barack Obama.
Barrow was one of 34 Democrats to oppose the health bill. He argued that it put too heavy a financial burden on working families and threatened to overwhelm Medicaid. He also said the bill wasn't tough enough on insurance companies.
Barrow's opposition outraged several Democratic leaders in his district. In 2010, some withdrew endorsements or backed his primary opponent, former state Sen. Regina Thomas. Montgomery County party chairman John Brewer vowed to help recruit a Democrat to defeat Barrow in 2012 if he won re-election.
Their outrage, however, didn't spread far among voters. Barrow defeated Thomas in the primary by winning nearly 60 percent of the vote.
Barrow's been more apt to side with Obama's economic stimulus policies. He supported the president's $26 billion jobs bill passed in 2010 as well as the 2009 approximately $800 billion economic stimulus package.
After a dust explosion at a sugar refinery killed 13 people near Savannah in February 2008, Barrow introduced a bill to force the federal Occupational Safety and Health Administration to adopt stricter standards on combustible dust. He reintroduced in 2009 the Worker Protection Against Combustible Dust Explosions and Fires Act.
Barrow has pushed to raise the minimum wage from $5.15 to $7.25 an hour. He bucked his party and voted in favor of immigration legislation that would authorize building a fence along the U.S.-Mexico border and make entering the U.S. illegally a felony offense.
He is a member of the Blue Dog Energy Task Force, which focuses on comprehensive policy solutions, alternative energy production and climate change.
Barrow's conservative stance on illegal immigration and the Iraq war proved crucial to his 2006 re-election, in which he defeated former Republican congressman Max Burns by a scant 864 votes.
Those positions prompted Thomas, a veteran Democratic state lawmaker, to first challenge Barrow in the 2008 primary. Barrow defeated Thomas with 76 percent of the vote.
Barrow comes from a prominent Georgia family. His ancestors include a former governor, former U.S. senator and former University of Georgia Chancellor David Crenshaw Barrow, for whom Georgia's Barrow County is named.
Source: Associated Press