John L. Mica
House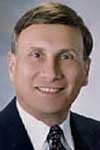 Birthdate: Jan. 27, 1943
Birth Place: Binghamton, NY, United States
Residence: Winter Park, FL
Religion: Episcopalian
First Elected: 1992
Gender: Male

Candidacy
Party: Republican
State: Florida
Office: House
District: District 7

Education
Undergraduate: University of Florida
Degree: BA

John Mica was born in Binghamton, N.Y., and now lives in Winter Park, Fla. He earned an associate degree from Miami-Dade Community College in 1965 and a bachelor's in political science from the University of Florida in 1967.
Mica worked as a business and government consultant specializing in wireless cable and cellular networks. He served as a Florida state representative from 1976 to 1980, and was former U.S. Sen. Paula Hawkins' chief of staff from 1981 to 1985.
He was elected to the U.S. House in 1992.
Mica and his wife, Pat, have two children.
Profile
John Mica survived a primary challenge in the August 2012 primary from another incumbent Republican member of Congress. Due to redistricting following the 2010 census, Mica and U.S. Rep. Sandy Adams both found themselves in the 7th Congressional District. Mica beat Adams, 61 percent to 39 percent, following a tough primary battle that featured blistering attack ads.
Mica overcame criticism by Adams that the big-spending ways of longtime lawmakers and Washington insiders like him have fueled the nation's soaring debt, a charge that echoes the deep divisions in the GOP. The two tangled over spending for pet projects and who's more conservative.
In 2012, he joined with Rep. Darrell Issa in asking the Federal Aviation Administration to prove its decision to approving the Cape Wind offshore wind farm wasn't driven by politics. Critics of the project say it will be a hazard to air and sea navigation, ruin the Nantucket Sound and offer overpriced power.
Mica, chairman of the Infrastructure and Transportation Committee, was a chief author of legislation in 2012 that preserved jobs on transportation projects around the country. When the House approved the bill, he said, "It's important for Congress to act, not just talk about problems we have but to get things done."
Mica has been an advocate of expanding high-speed railroads for passenger and freight transportation.
But during a hearing in 2011, he said California's high-speed rail project was "imploding," with cost estimates more than doubling to $98.5 billion. He said the state had received about a third of the government's investment nationally in high-speed rail. "That's a huge amount of money that will not show success," he said.
He sought legislation in 2008 to open high-speed passenger rail development to private sector participation. In April 2009, the National Association of Railroad Passengers gave Mica the George Falcon Gold Spike Award for his efforts to promote rail transportation.
"Rail transportation, for passengers and freight, is an essential component of a truly national transportation strategy," Mica said. "Rail has tremendous potential to move people and goods in this country, but we have underutilized this valuable mode of transportation."
Mica saw years of advocacy come to fruition in 2009 when Florida Gov. Charlie Crist signed legislation clearing the way for commuter and transit rail systems in central Florida. Mica had warned that the state risked missing out on $2.6 billion in federal money for high-speed rail if the Florida Legislature didn't approve funding for SunRail.
As the chair of a House committee overseeing aviation, Mica's views helped shape the U.S. response to Sept. 11 within the airline industry. He pushed for armed pilots and opposed creating the Transportation Security Administration. A critic of the Federal Aviation Administration, Mica served as an advocate for private firms taking over airport security.
After meeting with a dozen airport directors in March 2004, Mica said that about a quarter of the nation's commercial airports no longer want the Transportation Security Administration screening passengers and baggage, preferring private companies working under federal supervision.
Airports, however, have not rushed to take advantage of a 2004 law that allows them to switch to private security. The House took another step to encourage private screening in a 2005 bill that would shield airports from lawsuits if they choose to switch.
After a 2010 government review said that the FAA was vulnerable to cyber attacks, Mica and Rep. Thomas Petri wrote a letter to FAA Administrator Randy Babbitt urging him to take any necessary steps to immediately address the security issue.
Mica has consistently parted ways with nearly every other member of Florida's congressional delegation by refusing to join their efforts to block offshore drilling. Mica contends offshore drilling can safely be conducted out of sight of the state's beaches.
In that respect, he agrees with his brother, David Mica, executive director of the pro-drilling Florida Petroleum Council. The congressman, however, insists that his brother's job has nothing to do with his position on drilling. He noted that he voted to drill in the Everglades as a member of the Florida House in the 1970s when his brother was still in college.
Mica spoke out in July 2010 regarding the House's passage of a bill placing new regulations on the drilling industry, saying "In typical Democrat fashion, this bill overtaxes, over-regulates, and costs American jobs."
Source: Associated Press