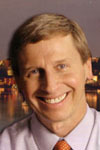 Birthdate: Nov. 25, 1952
Birth Place: Waltham, MA, United States
Residence: Hopkinton, NH
Religion: Roman Catholic
Gender: Male

Candidacy
Education
John Lynch was born in Waltham, Mass., and now lives in Hopkinton, N.H. He earned a bachelor's degree from the University of New Hampshire, a master's degree from Harvard Business School and a law degree from Georgetown University Law Center.
He was president of a consulting firm, The Lynch Group, in Manchester, N.H. Previously, he was admissions director at Harvard Business School and served as president and CEO of Knoll Inc., a Pennsylvania furniture company.
He resigned as chairman of the state university system trustees to make his first run for elected office and in 2004 was elected governor. He announced in September 2011 he would not seek re-election in 2012.
Lynch and his wife, Susan, have three children.
Profile
John Lynch is a millionaire businessman-turned-politician who made a living helping financially troubled companies reorganize before his election in 2004. In September 2011, Lynch announced he would not seek re-election in 2012.
Lynch was the first challenger since 1926 to unseat a freshman governor when he beat Republican Craig Benson in 2004 by promising to replace a "culture of corruption" with one of integrity and bipartisanship.
He and the Democratic-controlled Legislature used a mix of spending cuts, potential land sales and borrowing to balance the state budget in 2010.
In 2012, Lynch backed a proposed state constitutional amendment to give lawmakers more control over public school funding, but it failed to win enough House votes to be placed on the ballot. Lawmakers have been trying for years to nullify a 1997 court ruling requiring the state to provide all children with an adequate education.
Many considered the 2012 proposal the best chance at success. It would have specified that the Legislature had a responsibility to maintain a public education system, as well as full authority over state funding for it.
Including the word "responsibility" in the amendment was key to getting Lynch's support. Though he has no direct role in proposed constitutional amendments by either signing or vetoing them, Lynch's support was seen as key to getting enough Democrats to back it and get it through the House. But just one Democrat voted for the measure, and Republicans criticized Lynch for not doing more to rustle up votes.
Lynch vetoed legislation in 2012 sought by the son of author J.D. Salinger that would have specified a person's right to control the commercial use of his or her identity is inheritable, and remains in effect for 70 years past death. Lynch called the bill overly broad and said it could have a chilling effect on legitimate journalistic and expressive works protected by the state and federal constitutions.
From the start of his political career, Lynch defused a potent Republican issue by pledging to veto any general sales or income tax in a state that has neither. He campaigned on the same promises in 2006, when he easily beat Republican state Rep. Jim Coburn to win a second term, and again in 2008 when he beat Republican state Sen. Joe Kenney for his third term.
During his second term, Lynch increased the compulsory dropout age to 18, expanded a children's health insurance program, expanded services to the disabled on waiting lists and increased the minimum wage for the first time in a decade.
Lynch also has won creation of a new job training fund, a ban on burning toxic construction and demolition debris, a new law fostering development of renewable energy and funding for a land conservation program.
Though he didn't lobby for its passage, Lynch also signed a civil union law in 2007 granting the same privileges and responsibilities of marriage to gays. New Hampshire was the first state to embrace same-sex unions without a court order or the threat of one.
Also in 2009, Lynch signed a law allowing gays to marry.
Source: Associated Press