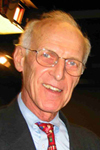 Birthdate: Sept. 3, 1936
Birth Place: Honesdale, PA, United States
Residence: Amherst, MA
Gender: Male

Candidacy
Education
John Olver was born in Honesdale, Pa., and now resides in Amherst, Mass. He earned a bachelor's in 1955 from Rensselaer Polytechnic Institute, a master's in 1956 from Tufts University and a doctorate in 1961 from the Massachusetts Institute of Technology.
Olver was a professor at the University of Massachusetts-Amherst from 1961 to 1969. He served in the Massachusetts House from 1968 to 1973, and in the state Senate from 1973 to 1990.
He won a special election to the U.S. House in June 1991 and was elected to a full term in 1992. He is not seeking re-election in 2012.
Olver and his wife, Rose, have a daughter.
Profile
John Olver has never been known for chasing the public spotlight.
But when the 2009 approximately $800 billion economic stimulus package was signed into law by President Barack Obama, spending on infrastructure increased and Olver's position as chair of the panel funding transportation and public housing came to the forefront.
Olver briefly made news in April 2006 when he was among five members of Congress who were jailed after protesting outside the Sudanese Embassy. It happened again in 2012, when he was arrested alongside George Clooney and several other members of Congress.
"We must hold the Sudanese government accountable for atrocities they have supported on their own citizens in Darfur," Olver said shortly before being led away in handcuffs in 2006.
The protests were a rare step into the public spotlight for Olver, who is known for his low-key personality. He said he chose not to run for re-election so he can care for his wife, who has cancer.
When he announced his decision in October 2011, Olver said his district had changed considerably since he was first elected two decades ago. "These twenty years have been tumultuous years for America," he said.
In 2012, he called for tax reform that would, among other things, retain progressive tax reform and repeal the alternative minimum tax.
He praised the 2012 Supreme Court decision upholding the 2010 health care reform bill and criticized the House vote holding Attorney General Eric Holder in contempt for refusing to release documents on the Fast and Furious gun-smuggling investigation. "This is the wrong road for Congress and the country to go down," he said in a statement after walking out of the House chamber with colleagues to protest the contempt vote.
He is a reliably liberal vote in the all-Democratic Massachusetts delegation and was a sharp critic of many of President George W. Bush's policies. Olver voted against the war in Iraq, and after Bush's 2006 State of the Union speech, he said, "We certainly should not be 'staying the course.' Instead, the president needs to focus all of his efforts on successfully getting us out of Iraq."
Olver secured $2.2 million in federal funds for the construction of a security facility at the Barnes Air National Guard base in Westfield. The funds are part of a $5 million military construction package in the district.
Source: Associated Press