John P. Sarbanes
House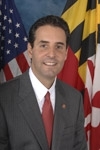 Birthdate: May 22, 1962
Birth Place: Baltimore, MD, United States
Residence: Towson, MD
Religion: Greek Orthodox
First Elected: 2006
Gender: Male

Candidacy
Party: Democratic
State: Maryland
Office: House
District: District 3

Education
Undergraduate: Princeton University
Degree: BA

Graduate: Harvard University
Degree: JD

John Sarbanes was born in Baltimore and lives in Towson, Md. He is the son of former Sen. Paul Sarbanes. John Sarbanes earned a bachelor's degree from Princeton University's Woodrow Wilson School of Public and International Affairs and a law degree from Harvard Law School.
He worked as a law clerk for U.S. District Judge J. Frederick Motz and began private law practice with a Baltimore law firm.
He spent 15 years as a board member and three years as president of the Public Justice Center, a Maryland-based nonprofit that works with people who need legal representation and cannot afford it.
He was elected to the U.S. House in 2006.
Sarbanes and his wife, Dina, have three children.
Profile
John Sarbanes is the son of former Sen. Paul Sarbanes, and entered Congress through a 2006 campaign in which he stressed his credentials rather than his political lineage.
Representing a district near the Chesapeake Bay, the nation's largest estuary, Sarbanes has made environmental issues a top concern.
In April 2012, he took part in a White House Summit on Environmental Education with Secretary of Education Arne Duncan and U.S. Environmental Protection Agency Administrator Lisa Jackson.
"Environmental education must be a national priority," Sarbanes said in a statement. "Research shows that hands-on, outdoor environmental education has a measurably positive impact not only on student achievement in science, but also in reading, math and social studies."
In February 2012, he tried to amend legislation to prevent offshore drilling near the Chesapeake Bay, but the amendment failed in a 12-25 vote.
"The Chesapeake Bay is a national environmental treasure and an economic catalyst for the Mid-Atlantic region's tourism and seafood industries," Sarbanes said at the time. "This bill would jeopardize the health of the Bay in pursuit of an inconsequential oil supply. The risk is not worth the reward."
In September 2011, he praised the Education Department's Green Ribbon Schools initiative to honor schools that promote environmental education and stewardship.
Sarbanes was the author of the No Child Left Inside Act, which he re-introduced in 2011. It authorizes new funding for states to provide high-quality, environmental instruction. Funds would support outdoor learning activities both at school and in non-formal environmental education centers, teacher professional development, and the creation of state environmental literacy plans.
"By creating an environmental education grant program and providing teacher training for environmental education across the curriculum, we can prepare our children for science, technology, engineering, and mathematics jobs that will be the cornerstone of the United States' 21st century economy," Sarbanes said.
Source: Associated Press