John Paul Kline
House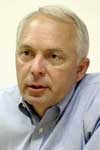 Birthdate: Sept. 6, 1947
Birth Place: Allentown, PA, United States
Residence: Lakeville, MN
Religion: Methodist
First Elected: 2002
Gender: Male

Candidacy
Party: Republican
State: Minnesota
Office: House
District: District 2

Education
Undergraduate: Rice University
Degree: BA

Graduate: Shippensburg University
Degree: MA

John Kline was born in Allentown, Pa., and now lives in Lakeville, Minn. He earned a bachelor's in biology from Rice University and a master's from Shippensburg University.
Kline spent 25 years in the Marine Corps. He served in Vietnam and Somalia and commanded Marine Aircraft Group 16, the Marines' largest air group. As a program development officer at Marine Corps headquarters, he developed a $50 billion resource allocation plan.
Kline served presidents Jimmy Carter and Ronald Reagan as a military aide, with responsibilities that included carrying launch codes for a nuclear attack. He retired as a colonel in 1994.
Kline was elected to the U.S. House in 2002.
He and his wife, Vicky, have two children.
Profile
John Kline's brand of understated, establishment Republicanism showed during the early days of the 2012 GOP presidential nomination race, when he stuck with former Minnesota Gov. Tim Pawlenty even as Pawlenty fizzled as a candidate and tea party-aligned Rep. Michele Bachmann of Minnesota jumped into the race and briefly achieved front-runner status.
Kline later switched his endorsement to former Massachusetts Gov. Mitt Romney and hoped that Pawlenty might end up as Romney's running mate. That was not to be, either, and Kline now supports Rep. Paul Ryan of Wisconsin as Romney's No. 2.
Kline joined party pillars, including Sen. John McCain of Arizona, in criticizing Bachmann for linking Huma Abedin, a top aide to Secretary of State Hillary Clinton, to the Muslim Brotherhood as part of a broader charge that Islamic extremists had infiltrated the top ranks of the U.S. government. Kline said Bachmann went too far and it was wrong to single out Abedin.
The retired Marine Corps colonel has been an outspoken opponent of the 2010 health care overhaul. He decried the Supreme Court decision upholding the law as "a devastating blow to the American people" and voted to repeal the law.
Kline, a 10-year House veteran, shapes the Republican approach to education policy as chairman of the House Education and the Workforce Committee. The post puts him in conflict with President Barack Obama's administration over an attempted overhaul of the unpopular No Child Left Behind Act. Kline instead has pushed more narrowly focused education bills through the House. He served as the panel's ranking Republican before his party took over the House in 2011.
In 2011, Kline voted with House leaders to raise the nation's debt limit, a move opposed by tea party members such as Bachmann.
Kline swore off earmarks in 2007, a stance that anticipated a broader aversion to government spending among the House GOP caucus.
Military issues have been a focus. Kline serves on the Armed Services Committee and teamed up with Democratic Sen. Amy Klobuchar in 2012 to pass legislation helping more than 49,000 troops recoup paid time-off benefits promised before they deployed overseas. In 2010, he pushed the military to cut long overdue checks for overtime pay to thousands of National Guard soldiers who served extended war deployments.
This year, Kline is running in a reshaped district made less conservative by redistricting. He hasn't had a tough race since taking office. He was first elected in 2002, defeating former Democratic Rep. Bill Luther by 11 percentage points after two unsuccessful tries. Redistricting helped Kline beat Luther by making the 2nd District more conservative.
Source: Associated Press