John R. Kasich
Governor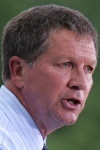 Birthdate: May 13, 1952
Birth Place: McKees Rocks, PA, United States
Residence: Westerville, OH
Religion: Christian
First Elected: 2010
Gender: Male

Candidacy
Party: Republican
State: Ohio
Office: Governor

Education
Undergraduate: Ohio State University
Degree: BA

John Kasich was born in McKees Rocks, Pa., and resides in Westerville, Ohio. He earned a bachelor's degree in political science in 1974 from Ohio State University.
Kasich grew up a Roman Catholic, but after his parents were killed in a car crash in 1987 he reconsidered his faith and began attending a non-denominational evangelical church.
He was an administrative assistant to then-state Sen. Donald Lukens of Ohio, serving from 1975 to 1977. He was elected to the Ohio Senate in 1978, serving from 1979 to 1983.
Kasich was elected to the U.S. House in 1982, and was re-elected to eight consecutive terms. He was elected Ohio governor in November 2010.
He has worked as a managing director for Lehman Brothers Holdings Inc. and as a Fox News commentator. He is a best-selling author and lecturer.
Kasich and his wife, Karen, have twin daughters.
Profile
John Kasich, who left politics after a failed presidential bid, has re-emerged on the political scene after spending a decade in the private sector. His 2010 comeback campaign for Ohio governor is based on restoring the state's economy, which has been suffering since before the recent recession.
His running mate was state Auditor Mary Taylor, a moderate from politically important northeast Ohio. He promised a different approach as Ohio governor, famously pledging after his election that people were either with him "on the bus," or "we will run over you with the bus."
The signature action of his first year was an attempt to roll back Ohio's collective bargaining laws, in a similar fashion to Wisconsin Gov. Scott Walker. The bill was approved and signed into law in March 2011 over protests by hundreds of unionized public employees, from teachers to firefighters. Democrats and union supporters placed the changes on that year's November ballot, where voters overwhelmingly rejected them. A chastened Kasich said, "I've heard their voices, I understand their decision and, frankly, I respect what people have to say in an effort like this."
Kasich took a more conciliatory approach with other proposals, working with Cleveland's Democratic mayor, Frank Jackson, on a plan to revive the city's school system. His softer tone didn't diminish his reputation as an undisciplined speaker, and his two State of the State speeches were notable for their rambling, often disconnected arguments which he made without notes. In 2012, he used the speech to award state medals of courage to two women, before quipping, "We don't want to see those on eBay, ladies."
While chairman of the U.S. House Budget Committee beginning in 1993, Kasich fought President Bill Clinton's initiatives. He tried to squash Clinton's budget proposals and economic stimulus plans, offering his own unsuccessful alternative to decrease the deficit without raising taxes as much as Clinton's plans.
Kasich was a key figure in the budget stalemates between Clinton and the Republican Congress that caused the federal government to shutdown twice in late 1995 and early 1996.
Kasich focused early in his House career on defense spending reform. In 1983, he led an investigation into the inflated costs of spare parts for weaponry, uncovering a one-penny washer costing $1.56.
On other issues, however, Kasich was a loyal Pentagon ally. He supported President Ronald Reagan's heavy military buildup and voted to increase funding for Reagan's Strategic Defense Initiative.
Brash and outspoken, Kasich sometimes rubbed his colleagues _ and his constituents _ the wrong way.
In a letter to Kasich in 1985, one constituent called him a "backwoodsy red-neck" for his remarks concerning the testimony before a panel on agriculture by actresses Jane Fonda, Sissy Spacek and Jessica Lange. Kasich had sarcastically referred to the three as "noted agricultural experts."
Kasich responded to the constituent in a letter, saying, "I would recommend you enroll in a remedial course on protocol before writing any more advisory letters to your elected officials. Or better yet, refrain from writing." He later apologized for the letter.
Kasich's high profile got even higher during the 105th Congress, where he continued to vote conservatively, fight for budget cuts and make his usual rounds on the Sunday morning talk shows. In 1998, he began making trips to Iowa and New Hampshire, not-so-subtle hints that he was gearing up for a 2000 presidential run. He dropped out of the race in July 1999 and endorsed the eventual victor, George W. Bush.
Source: Associated Press