John Rice Carter
House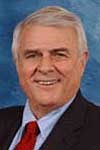 Birthdate: Nov. 6, 1941
Birth Place: Houston, TX, United States
Residence: Round Rock, TX
Religion: Christian
First Elected: 2002
Gender: Male

Candidacy
Party: Republican
State: Texas
Office: House
District: District 31

Education
Undergraduate: Texas Tech University
Degree: BA

Graduate: University of Texas
Degree: JD

John Carter was born in Houston and resides in Round Rock, Texas. He earned a bachelor's from Texas Tech University and a law degree from the University of Texas.
After graduation from law school, Carter served as the first general counsel to the Texas House's Agriculture Committee. He began a private law practice in the early 1970s and continued to practice law while serving as a municipal judge in Round Rock until 1980.
Carter took the bench as a state district judge in 1982 and was re-elected four times, earning more than 60 percent of the vote.
Carter retired from the bench in 2001. He was elected to the U.S. House in 2002.
Carter and his wife, Erika, have four children.
Profile
John Carter arrived in the U.S. House in 2002, bringing two decades of judicial experience to his freshman term. During his second term, he won a coveted place on the Appropriations Committee, giving him a say on the distribution of federal budgets at district level.
He sponsored an amendment in 2011 to the defense appropriations bill that restored $120 million for the armed services' 100-plus military bands _ money that was earlier slated for cutting.
"The facts about our bands are that they are an integral part of the patriotism that keeps our soldiers' hearts beating fast," Carter said at the time.
Carter is a fiscal conservative and he opposed the $700 billion financial bailout proposed by President George W. Bush in late 2008. Though he was against the measure, he vowed that "we will seek out those at fault and make sure they are punished for any fraud or crime committed."
Carter also opposed the 2010 health care reform bill, calling it one of the "most unpopular and unconstitutional" bills ever passed. He has urged attorneys general in Texas and other states to challenge the law in court.
Carter has worked to pass a constitutional amendment to protect the U.S. flag and has introduced legislation to protect the use of the word "God" in the Pledge of Allegiance and on U.S. currency.
After a 2009 mass shooting at Fort Hood, which is in his district, Carter filed bills to give defense workers whistleblower protection to report "radical Islamic activity" and to allow victims and their families to receive charitable contributions.
Carter is anti-abortion, supports prayer in schools and has vowed to fight for more transportation and education dollars for his district.
He supports a comprehensive energy policy that reduces the country's dependence on foreign oil. He also supports additional domestic oil exploration, including drilling in the Arctic National Wildlife Reserve.
Carter says he wants to see more tax cuts because he believes that if families are tightening their belts, so should the federal government.
Source: Associated Press