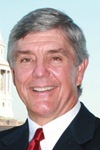 Birthdate: Sept. 13, 1949
Birth Place: Evanston, IL, United States
Residence: Austin, TX
Religion: Disciples of Christ
Gender: Male

Education
Undergraduate: Texas Christian University
Degree: BS

Roger Williams was born in Evanston, Ill., raised in Fort Worth, Texas, and now lives in Weatherford. He was a baseball star at Texas Christian University, where he earned a bachelor's in education in 1972.
Williams attempted to play professionally with the Atlanta Braves organization, then returned to TCU as a baseball coach. He later worked in business and public affairs before joining his father at the family's automotive dealership, which was founded in 1939.
He and his wife, Patty, have two children.
Profile
In July 2012, conservative activist and former Texas Secretary of State Roger Williams defeated Wes Riddle, founder of the Central Texas tea party, to earn the Republican nomination to represent Texas' 25th Congressional District, which encompasses a rural swath of territory skirting Austin. Williams and Riddle faced each other in a runoff after none of the 12 Republicans in the fiercely conservative district won a majority of the GOP votes cast during the May primary.
Williams advanced to the November 2012 general election where he faces Elaine Henderson, a little-known candidate who ran unopposed in the district's Democratic primary.
Williams is a fierce advocate for small government and free enterprise. He is a close ally of Republican Gov. Rick Perry, who has been in office since December 2000 and is both America's longest-sitting governor and the longest-serving governor in Texas history.
Williams is vying to replace Democratic Rep. Lloyd Doggett, who is running for re-election in the new 35th Congressional District. The Texas Legislature dramatically redrew the 25th District in 2011 to ensure a Republican victory.
Williams serves as a trustee at his alma mater, Texas Christian University, and at the George Bush School of Government and Public Service at Texas A&M University. Perry also once appointed him to the Texas Motor Vehicle Board, and former Lt. Gov. Bill Ratliff once tapped Williams to serve on the Special Committee on State Employee Compensation and Benefits.
Perry appointed Williams secretary of state in 2004 and he remained in that position until 2007. In that capacity, Williams served as the state's chief elections officer, assisting county election officials and ensuring consistent application and interpretation of election laws throughout the state. He also served as the governor's chief liaison to the border region between Mexico and Texas.
Williams considered challenging long-serving Republican U.S. Sen. Kay Bailey Hutchison in 2008, but decided against it. He also mulled a Senate run in 2012, but instead announced that June that he was running for Congress.