John Russell 'Russ' Carnahan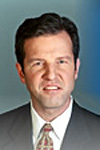 Birthdate: July 10, 1958
Birth Place: Columbia, MO, United States
Residence: St. Louis, MO
Religion: United Methodist
Gender: Male

Candidacy
Education
Russ Carnahan was born in Columbia, Mo., and resides in St. Louis. He received a bachelor's degree and a law degree from the University of Missouri.
Carnahan practiced law in St. Louis and Rolla and worked at a nonprofit health care company.
He won election to the state House in 2000 and served there until winning election to the U.S. House in 2004.
Carnahan and his wife, Debra, have two sons.
Profile
Russ Carnahan's bid for re-election was cut short in the August 2012 Democratic primary. After the 2010 census, Missouri dropped from nine congressional districts to eight, forcing Carnahan to face fellow incumbent Rep. William Lacy Clay Jr. The state's Republican-led Legislature distributed territory from Carnahan's 3rd District to several surrounding districts.
Carnahan opted to challenge Clay in a primary rather than run in a suburban St. Louis district. Carnahan received 34 percent of the vote to Clay's 63 percent.
In Congress, Carnahan's priorities included health care, transportation and education. He was a staunch supporter of the 2009 approximately $800 billion economic stimulus package and of the 2010 health care reform bill.
He commended the June 2012 decision by the Supreme Court upholding the health care legislation. "I applaud the decision which echoes a majority of Americans who believe that healthcare coverage is both a right and a responsibility," he said.
Carnahan has supported legislation to provide federal funding for embryonic stem cell research and also supported the Combat Meth Act, which increases restrictions on over-the-counter medicines that can be used to make methamphetamine.
After President Barack Obama signed legislation in 2011 that restored $12.5 million for meth lab cleanup, Carnahan said he advocates a response to meth abuse that "leverages federal, state, and local resources to tackle all aspects of the problem, from research, education, and prevention to law enforcement, treatment and remediation."
He helped win passage of an amendment for funding the Head Start programs in 2007.
Carnahan supported investigations by Congress and the Department of Veterans Affairs in 2010 after it was disclosed that sterilization problems at the St. Louis VA Medical Center put nearly 2,000 veterans at risk of HIV and hepatitis.
He has been a reliable Democratic vote with some exceptions. He voted in favor of a constitutional amendment to ban flag burning and supported reauthorization of the Patriot Act, criticized by some Democrats as trampling on civil liberties.
Carnahan had big shoes to fill when he replaced retiring Rep. Dick Gephardt, the former Democratic House leader, in 2005.
Carnahan comes from one of Missouri's leading political families.
His grandfather, A.S.J. Carnahan, served seven terms in Congress and as ambassador to Sierra Leone. His father, Mel Carnahan, twice won election as Missouri governor, then died in a plane crash while campaigning for U.S. Senate against then-Sen. John Ashcroft in October 2000. Russ Carnahan's brother, Randy, also died in the crash. After voters elected his father to the seat posthumously, his mother, Jean Carnahan, was appointed to serve in his place. She lost to Jim Talent in a special election in 2002.
His father's death occurred the same year Russ Carnahan first won election to the state House. Carnahan's sister, Robin, was elected as secretary of state in 2004 and lost a 2010 race for the U.S. Senate.
Source: Associated Press