John Thomas 'Tom' Graves, Jr.
John Thomas 'Tom' Graves, Jr.
House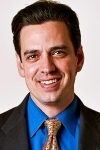 Birthdate: Feb. 3, 1970
Birth Place: St. Petersburg, FL, United States
Residence: Ranger, GA
Religion: Baptist
First Elected: 2010
Gender: Male

Candidacy
Party: Republican
State: Georgia
Office: House
District: District 14

Education
Undergraduate: University of Georgia
Degree: BBA

Tom Graves was born in St. Petersburg, Fla., and now resides in Ranger, Ga. He earned a bachelor's in finance from the University of Georgia.
Graves manages commercial and residential real estate.
He was elected to the Georgia House in 2002 and became known as one of the most conservative Republicans in the state Legislature.
He won a special election to the U.S. House in June 2010.
Graves belongs to Belmont Baptist Church in Calhoun.
He and his wife, Julie, have three children.
Profile
Tom Graves became the newest member of Georgia's congressional delegation in June 2010 when he won an open seat vacated by longtime incumbent Republican Rep. Nathan Deal, who stepped down to run for governor.
After the 2012 redistricting, Graves' old 9th District changed shape and number _ it's now the 14th District _ but not its character, remaining one of the most conservative regions in the country.
The district runs from the mountainous border with Tennessee down to the exurbs northeast of Atlanta.
Graves' politics are in sync with his district. On the campaign trail, he commonly introduces himself to voters as a "country boy conservative" who opposes abortion and supports gun ownership rights.
His early voting record in Congress shows Graves stands out even among Republicans in his desire to trim the reach of the federal government. He was among three House lawmakers to vote against banning the interstate sale of so-called crush videos _ sexual fetish films that show women killing small animals by crushing them with their feet.
He also opposed giving organizations that work with children easier access to a federal database so they could screen job applicants for criminal records.
Graves explained both votes by saying he is opposed to allowing the U.S. government to take actions best left to the states. He said all states have existing laws banning animal cruelty and are equipped to check the criminal backgrounds of people working with children.
Like most Republicans in Georgia, he was a staunch opponent of the 2010 health care reform bill backed by President Barack Obama.
In 2011, Graves and Sen. Johnny Isakson sponsored legislation that would have let Americans tap their retirement accounts to pay their mortgages.
Graves' small-government mantra won an endorsement from the Atlanta Tea Party Patriots, which credited Graves with being an early tea party supporter.
Source: Associated Press