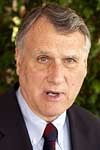 Birthdate: April 25, 1942
Birth Place: Oakland, NE, United States
Residence: Phoenix, AZ
Religion: Presbyterian
Gender: Male

Candidacy
Education
Jon Kyl was born in Oakland, Neb., and currently resides in Phoenix. He earned both a bachelor's degree and a law degree from the University of Arizona.
He practiced law and was chairman of the Phoenix Metropolitan Chamber of Commerce in 1984 and 1985. After being elected to the U.S. House in 1986, he was re-elected to three more consecutive terms.
He was elected to the U.S. Senate in 1994. He won re-election to his Senate seat in 2000 and 2006. He is retiring from the seat at the end of 2012.
Kyl and his wife, Caryll, have two children.
Profile
Jon Kyl is retiring at the end of 2012 after three terms as a Senator and four as a congressman representing Arizona. He is supporting Republican Rep. Jeff Flake in the race to replace him.
Kyl is the second-ranking Republican in the Senate. He has been a key critic of President Barack Obama and instrumental in the GOP's efforts to beat back Democratic legislation. He has been highly critical of the Obama administration over its February 2009 stimulus plan and the 2010 health care reform law.
Kyl was a fervent defender of a tough crackdown on illegal immigrants enacted in his home state of Arizona. He joined with Sen. John McCain to push a 10-point border security plan in 2009. The senators want to deploy National Guard troops to the border, hire more Border Patrol agents and increase the use of unmanned aerial vehicles.
Kyl opposed the confirmation of Supreme Court Justice Elena Kagan, saying she has a "leftist ideology."
He has pushed for more money for nuclear weapons modernization and strongly opposed Obama's efforts to cut nuclear weapons as part of a new arms treaty with Russia.
Nine Democrats broke with their party's leadership in April 2009 and voted in favor of a nonbinding plan put forward by Kyl and Sen. Blanche Lincoln, an Arkansas Democrat, which sought to cut taxes for multimillion-dollar estates. The vote was a blow to the president who wanted to reduce benefits for the wealthy as a way to fund health care initiatives.
While McCain, Arizona's senior senator, often overshadows Kyl's public profile, Kyl has spearheaded important issues _ such as work on water settlements _ outside the media spotlight.
He led a settlement of decades-old water claims and lawsuits involving Native American tribes in Arizona and New Mexico that ultimately failed in 2012. He helped craft a crime victims' bill of rights and has long pushed to add Border Patrol agents and tighten security along the U.S.-Mexico border.
At a 2009 luncheon, Kyl called for Homeland Security Secretary Janet Napolitano to have National Guard troops protect the border. He argued during a 2006 Senate debate that illegal immigrants should go home before applying to return to the United States, and he opposed legislation that would have created a guest-worker program and a path toward citizenship.
Kyl has pushed for thinning dense forests as a way to protect Arizona against catastrophic wildfires. He has sought federal funding for researchers who monitor and evaluate forest health restoration techniques.
Kyl faced his toughest election year 2006 when Jim Pederson, a millionaire shopping mall developer, challenged him in an expensive race that hinged on voters' attitudes toward national security and illegal immigration.
Kyl was elected to the Senate in 1994, after serving four terms in the U.S. House. During his campaign, the Republican lawmaker promised to push for change in Congress, fight for less government spending and lower taxes. He also pledged to work for a welfare system that does not "stifle initiative and hard work."
When he first ran for the House, he campaigned as a Ronald Reagan-style conservative who backed a federal balanced budget amendment and a presidential line-item veto. He stressed that cutting government spending was the key to deficit reduction.
Kyl opposes abortion, supports the death penalty and has been a strong proponent of crime victims' rights and safeguarding against identity theft.
Source: Associated Press