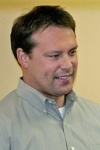 Birthdate: Dec. 31, 1971
Birth Place: Swain County, NC, United States
Residence: Waynesville, NC
Religion: Baptist
Gender: Male

Candidacy
Education
Heath Shuler was born in Swain County, N.C., and grew up in Bryson City. He lives in Waynesville.
After winning three state titles as a high school quarterback, Shuler attended the University of Tennessee and was the runner-up for the Heisman Trophy in 1993. The next year, the Washington Redskins selected Shuler in the first round of the NFL Draft.
When injuries ended his professional career after four seasons, Shuler returned to Tennessee to complete his bachelor's degree in psychology. He headed a Knoxville-based real estate brokerage and worked with real estate investments before his election to Congress.
He was elected to the U.S. House in 2006.
Shuler and his wife, Nikol, have two children.
Profile
Heath Shuler joined a line of conservative Democrats departing the U.S. House when he announced in February 2012 he would not seek a fourth term.
Shuler said his decision had everything to do with his family _ his children wanted him home in far western North Carolina, not Washington _ and not with his occasional clashes with House Democratic leaders.
"There's no other reason other than to spend as much time as I possibly can with them," Shuler said. "When you've got a 7-year-old girl, and you left on Tuesday and she calls you Wednesday and says, `Come home now,' I want to be home with those kids."
It also didn't help Shuler that 2011 redistricting by Republicans in the state Legislature had made his 11th District seat more difficult to win. But Shuler pointed to polls in early 2012 showing him ahead in the district.
Shuler's disagreements with Democratic congressional leaders reached a head following the 2010 elections when he challenged House Democratic leader Nancy Pelosi for the post. Nearly a dozen Democrats later voted for Shuler, an apparent effort to express some unhappiness with Pelosi's previous four years as speaker.
As a leader in the Democratic Blue Dog Coalition in Washington, Shuler has been one of the party's leading voices for fiscal responsibility.
He voted against the financial industry bailouts in 2008 and 2009 and was one of only a handful of Capitol Hill lawmakers to break from party lines on the approximately $800 billion economic stimulus package.
Although he was one of three North Carolina Democrats to oppose the 2010 federal health care overhaul, Shuler refused in July 2012 to vote to repeal the law. He said it was wrong to remove coverage for children, young adults and seniors whose coverage improved under the law.
"My strong pro-life philosophy cannot reconcile or justify how we pull the rug out from beneath these individuals now," Shuler said in a statement.
The Republican Party recruited Shuler to run for Congress in 2001 while he was living in Tennessee. His name was already familiar to voters; he had led Swain County High School to three state championships before a successful college career at the University of Tennessee.
Shuler said he was inspired to run for office _ eventually as a Democrat _ after watching western North Carolina residents pull together after devastating floods in 2004.
Shuler won his House seat in 2006 by defeating GOP Rep. Charles Taylor. Shuler criticized Taylor for not casting a vote on the Central American Free Trade Agreement, a bill unpopular with many in the state who blame cheap foreign labor for the condition of North Carolina's suffering textile industry.
Source: Associated Press