Joseph 'Joe' Crowley
House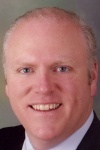 Birthdate: March 16, 1962
Birth Place: Queens, NY, United States
Residence: Queens, NY
Religion: Roman Catholic
First Elected: 1998
Gender: Male

Candidacy
Party: Democratic
State: New York
Office: House
District: District 14

Education
Undergraduate: Queens College
Degree: BA

Joe Crowley was born in New York City and has lived in Queens all his life. He earned a bachelor's degree in political science and communications in 1985 from Queens College.
Crowley was elected to the state Assembly in 1986 and to the U.S. House in 1998.
He and his wife, Kasey, have three children.
Profile
Joe Crowley is working not only for his own re-election to the U.S. House of Representatives in 2012; he also is trying to get other Democrats elected, as the national finance chair of the Democratic Congressional Campaign Committee.
Crowley won his first election to New York's 7th District in 1998. Following the 2010 census, New York lost two congressional seats prompting redistricting. Crowley will run in the 14th District in 2012.
The active fundraiser, who is also chief deputy whip for the House Democrats, has been raising money not only for his campaign chest, but to dole out to other campaigns.
Crowley's fundraising has also brought him some negative attention.
In 2010, it was recommended that he and two other House lawmakers be investigated to determine whether political contributions were improperly linked to their votes on the financial regulation reform bill passed by Congress in July 2010. Crowley held a cocktail reception in December 2009, around the time of crucial House votes on the legislation, which was the most sweeping overhaul of financial rules since the Great Depression.
He was cleared in 2011, with the House Ethics Committee saying Crowley's efforts were no different than other money-raising events.
Crowley leads the Queens Democratic Party, arguably the most powerful borough organization in the city, and one of the most important in the entire country.
That hasn't always been the easiest position to hold. In 2011, Crowley picked David Weprin to run in a special election for the seat vacated by former Rep. Anthony Wiener, and Weprin ended up losing to Republican Bob Turner in what had been widely assumed to be a safe Democratic seat.
The county party did better in 2012, when its candidate won the Democratic primary to succeed retiring Rep. Gary Ackerman.
In Congress, Crowley is an outspoken supporter of the 2010 health care reform bill. He also has worked on health issues related to the Sept. 11 attacks.
He estimates that in his district, 105 families _ including his own _ lost loved ones that day. A cousin of his was a firefighter who died at the World Trade Center.
He has pushed for health screenings for those who might have inhaled harmful dust during the attacks or been exposed to other long-term health consequences.
Source: Associated Press