Joseph 'Joe' I. Lieberman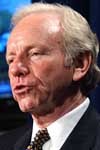 Birthdate: Feb. 24, 1942
Birth Place: Stamford, CT, United States
Residence: New Haven, CT
Religion: Judaism
Gender: Male

Candidacy
Education
Joe Lieberman was born in Stamford, Conn., and resides in New Haven. He earned a bachelor's degree from Yale University and a law degree from Yale Law School.
He served in the Connecticut Senate from 1970 to 1980. He served as state attorney general from 1983 to 1988.
Lieberman was elected to the U.S. Senate in 1988 and was re-elected in 1994, 2000 and 2006. He is up for re-election in 2012. Lieberman also was the 2000 Democratic vice presidential nominee and sought the Democratic presidential nomination in 2004.
Lieberman and his wife, Hadassah, have four children.
Profile
Joe Lieberman's independent ways have irked his old Democratic colleagues.
In 2009, some health care reform supporters accused Lieberman of trying to derail a Democratic proposed reform bill. He forced legislators to change the bill after stating that he would side with Republicans and filibuster any attempt to pass the bill because it included a public option. Lieberman said he believed a public option would be too costly for taxpayers and would drive up insurance premiums.
Lieberman backed Republican Sen. John McCain during the 2008 presidential contest and actively campaigned for him across the country. McCain thought about making Lieberman his running mate.
Democrats chafed at how Lieberman needled Barack Obama, then the Democratic presidential candidate, during his Republican National Convention speech with the line "eloquence is no substitute for a record."
After the election, at Obama's urging, Senate Democrats decided not to punish Lieberman. They voted to let him keep his chairmanship of the Homeland Security and Governmental Affairs Committee. Obama was eager to strike a bipartisan tone for his presidency.
Lieberman changed his tune on Obama, praising Obama's approach during the first months of his presidency.
Democrats need Lieberman's support to overcome the threat of a Republican filibuster. Though he identifies himself as an Independent Democrat, he still caucuses with Senate Democrats. He is not seeking re-election in 2012.
Lieberman is among a handful of lawmakers who campaigned in 2010 to repeal the "don't ask, don't tell" policy, which bans gay men and women from openly serving in the military.
After being Al Gore's vice presidential running mate in 2000, Lieberman battled for his political life in 2006 after losing the Democratic Senate primary to a political novice running on an anti-war platform. Lieberman lost by 10,000 votes to Greenwich millionaire Ned Lamont and filed petitions with the state to appear on the general election ballot as an independent.
Leading Democrats who before the primary pledged to support Lieberman _ including Rep. Chris Shays, New Jersey Sen. Frank Lautenberg and former President Bill Clinton _ abandoned Lieberman after his primary loss and threw their support to Lamont. Lieberman ultimately won the general election with 50 percent of the vote.
Lieberman's primary loss was his first in a Connecticut election since 1980. He capitalized on his 2000 vice presidential nomination by making a brief run for president in 2004. He said he believed his "mainstream voice" was the right message for his party, but acknowledged that voters disagreed.
In Congress, Lieberman has seized leadership roles on several high-profile issues.
Five weeks after the Sept. 11 attacks, he became one of the first politicians to call for the ouster of Iraqi leader Saddam Hussein and later voted in favor of the military invasion of Iraq.
As chairman of the Governmental Affairs Committee, Lieberman led the efforts to create a new Department of Homeland Security and an investigation into Enron Corp.'s bankruptcy.
He was one of the chief backers who pushed for creating an independent commission to investigate the Sept. 11 attacks.
Lieberman first gained national notice in 1998 when he gave a politically explosive speech on the Senate floor criticizing then-President Bill Clinton, his friend of many years and a fellow centrist Democrat, over the Monica Lewinsky affair.
Source: Associated Press