Joseph 'Joe' R. Pitts
House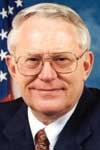 Birthdate: Oct. 10, 1939
Birth Place: Lexington, KY, United States
Residence: Kennett Square, PA
Religion: Protestant
First Elected: 1996
Gender: Male

Candidacy
Party: Republican
State: Pennsylvania
Office: House
District: District 16

Education
Undergraduate: Asbury College
Degree: BA

Graduate: West Chester University
Degree: MEd

Joe Pitts was born in Lexington, Ky., and now resides in Kennett Square, Pa. As a child he lived in the Philippines, where his parents were missionaries after World War II. He earned a bachelor's degree from Asbury College and a master's degree from West Chester University.
Pitts taught elementary school in Kentucky before joining the Air Force in 1963. He served as an electronic warfare officer during the Vietnam War, where he flew B-52 combat missions.
He was elected to the Pennsylvania House in 1972.
Pitts owned and operated a landscaping and nursery business from 1974 to 1990.
He was elected to the U.S. House in 1996.
Pitts and his wife, Virginia, have three children.
Profile
Joe Pitts has been a strong voice for less government spending _ except on national defense _ and his voting record hews to the Republican Party line.
In recent years he has focused his legislative efforts on health issues, and has voiced strong opposition to the 2010 health care reform bill. Pitts called the June 2012 Supreme Court ruling upholding the law "deeply disappointing" and said the legislation was "bad policy." He vowed to work for a full repeal.
He has focused on the Food and Drug Administration, hoping to improve the process by which medical devices and drugs are reviewed by the agency. He was a co-sponsor of legislation designed to increase inspections of foreign drug factors and speed approvals of new drugs at home. President Barack Obama signed the bill in early July 2012.
Pennsylvania's 16th Congressional District is dependably GOP in a state where Democrats outnumbered Republicans by more than 1 million following the 2008 election. Pitts' constituency represents all of the Amish heartland of Lancaster County as well as parts of Chester and Berks counties in the southeast. He faces Democrat Aryanna Strader in the November 2012 general election.
During Obama's tenure, Pitts voted against the approximately $800 billion economic stimulus package, calling it a "big government, special interest spending bill that will do little to help the economy in the short term, and may end up doing harm in the long term."
Pitts also criticized Obama's March 2009 executive order abolishing stem-cell research restraints that President George W. Bush had supported.
Pitts has demonstrated concern about human rights and has visited developing countries to learn more about the subject. He traces his concern for human rights, as well as his commitment to a strong national defense, to his childhood experiences in the Philippines following World War II.
Source: Associated Press