Joyce Beatty
House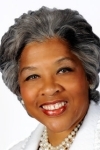 Birthdate: March 12, 1950
Birth Place: Dayton, OH, United States
Residence: Columbus, OH
Religion: Baptist
Gender: Female

Candidacy
Party: Democratic
State: Ohio
Office: House
District: District 3

Education
Undergraduate: Central State University
Degree: BA

Graduate: Wright State University
Degree: MA

Joyce Beatty was born and raised in Dayton, Ohio, and now lives in Columbus. She earned a bachelor's degree in speech from Central State University and a master's in counseling psychology from Wright State University.
She worked in various jobs, including as a professor at Sinclair College, before owning a management training company and later becoming involved in politics.
Beatty served on the national board of the American Heart Association.
In 2009, she joined Ohio State University as vice president for outreach and engagement. She helped develop and oversaw a leadership program to help principals improve the learning environments at their schools, using $3 million from Ohio's "Race to the Top" school improvement grant and other federal funds.
She left Ohio State in 2012 to focus on campaigning for Congress.
Beatty and her husband, former U.S. Rep. Otto Beatty Jr., own a clothing shop in Columbus called Pieces for Wear.
Profile
Joyce Beatty defeated former U.S. Rep. Mary Jo Kilroy and two other candidates to win the 2012 Democratic primary for Ohio's newly established 3rd District, which was created to lean toward a black candidate. Beatty, who is black, was helped by the endorsement of popular Columbus Mayor Michael Coleman.
At the federal level, Beatty wants to focus on policies that boost the economy and create jobs, which she deems the top issue for the 3rd District.
Beatty has shown a special interest in health care and education throughout her political career and plans to continue that if elected to Congress.
She opposes cutting funding for programs that benefit older workers and residents, such as Social Security and Medicare. She also vows to stand up to anyone trying to overturn the 2010 health care reform bill supported by President Barack Obama.
Beatty also wants to protect funding for schools and students, including grants for higher education.
"Investing in our children's education and ensuring an affordable college education is available are the most important investments we can make in our future," she says on her website.
Beatty was a consultant on strategic and diversity planning when Democrats appointed her to replace her husband, Otto Beatty Jr., in 1999 when he left the state Legislature. She was elected to a full term the following year and represented part of the Columbus area in the Ohio House for more than nine years, rising to become its first female Democratic minority leader.
During that time, Beatty pushed for state funding for certain cancer screenings for women who were working but lacked health insurance. She also supported legislation that froze college tuition rates, and she advocated for measures to boost science and mathematics education and to help students understand their finances.
Source: Associated Press