Justin Amash
House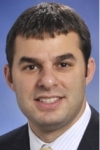 Birthdate: April 18, 1980
Birth Place: Grand Rapids, MI, United States
Residence: Cascade Charter Township , MI
First Elected: 2010
Gender: Male

Candidacy
Party: Republican
State: Michigan
Office: House
District: District 3

Education
Undergraduate: University of Michigan
Degree: BA

Graduate: University of Michigan
Degree: JD

Justin Amash was born in Grand Rapids, Mich., and currently lives in Cascade Charter Township. He holds both a bachelor's degree and a law degree from the University of Michigan.
Amash has worked as a manager at an industrial tools company and as a business lawyer. He was elected to the Michigan House in 2008, winning a Republican-leaning district after the incumbent was forced out of office by the state's term limit law.
He was elected to the U.S. House in 2010, defeating Democrat Pat Miles for Michigan's 3rd District seat and succeeding retired Rep. Vernon Ehlers.
Amash and his wife, Kara, have three children.
Profile
Justin Amash has quickly established himself as a voice for conservatism's libertarian wing in the House, earning from Reason magazine the label of "the next Ron Paul." He has joined fellow Republicans in support of slashing federal spending while sometimes siding with Democrats in efforts to protect individual liberties from what he considers an overly intrusive government.
Amash voted to repeal the 2010 health care reform law and for a resolution to hold Attorney General Eric Holder in contempt in the Operation Fast and Furious gun-trafficking affair. He also voted to audit the Federal Reserve and to expand offshore drilling for oil and gas.
Amash voted against the 2011 bill that raised the debt ceiling to avoid a government default, saying its spending cuts were inadequate and the measure lacked needed entitlement reforms and a constitutional amendment requiring a balanced budget.
He parted company with many conservatives by demanding cuts in spending on defense as well as domestic programs. "Our military spending should be based on the defense needs of the United States, not the business interests of defense contractors," he said on his Facebook page, where he posts an explanation of every vote he casts.
Amash joined a coalition of libertarian and tea party Republicans and Democrats in opposing indefinite detainment of terrorist suspects without trial. When the House approved a bill designed to prevent electronic attacks on U.S. infrastructure and businesses, Amash successfully sponsored an amendment putting certain personal information off-limits as government agencies and companies share information.
"I don't know why the government would want to snoop through library records or tax returns to counter the cybersecurity threat," he said.
Amash served one term in the Michigan House of Representatives, elected in 2008 at age 28. He voted against bills that would have increased state spending, opposed a ban on smoking in the workplace and spoke against federal bailout programs for industry.
Amash is an aggressive campaigner. He announced he was running for Congress in February 2010, one day before the veteran Republican incumbent _ U.S. Rep. Vern Ehlers _ officially announced his retirement. In 2012, Amash was a favorite of the Liberty for All Political Action Committee run by youthful Texas millionaire John Ramsey. He had no opposition in Michigan's August 2012 GOP primary.
Source: Associated Press