Jacqueline 'Jackie' K. Speier
Jacqueline 'Jackie' K. Speier
House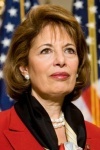 Birthdate: May 14, 1950
Birth Place: San Francisco, CA, United States
Residence: Hillsborough, CA
Religion: Roman Catholic
First Elected: 2008
Gender: Female

Candidacy
Party: Democratic
State: California
Office: House
District: District 14

Education
Undergraduate: University of California - Davis
Degree: BA

Graduate: University of California - Davis
Degree: JD

Jackie Speier was born in San Francisco. She attended the University of California-Davis where she earned a bachelor's in political science in 1972 and a law degree in 1976.
Speier was legal counsel for Rep. Leo Ryan. She went with Ryan to Guyana in 1978 to investigate cult leader Jim Jones at his Jonestown compound. An attack by Jones' henchmen left Ryan dead and Speier severely wounded, and she still carries two bullets in her body from the attack.
She was elected to the San Mateo County Board of Supervisors in 1980 and to the California Assembly in 1986, where she served five terms. She won election to the state Senate in 1998 and served two terms.
She was elected to the U.S. House in 2008.
Speier and her husband, Barry, live in Hillsborough.
Profile
Jackie Speier is running for re-election in 2012 in California's newly drawn 14th Congressional District. She was displaced from her current 12th District by redistricting.
Speier has compiled a generally liberal record during a political career that has spanned 28 years.
She was sworn into Congress in April 2008 and used her first speech in the House to demand that the United States immediately begin withdrawing troops from Iraq, a stance that drew boos from some Republicans.
One of her first acts in the House was to carry legislation that named a post office in her district after her late boss, Rep. Leo Ryan, who was killed in Guyana in 1978 in an attack by henchmen of cult leader Jim Jones. Speier was severely wounded in the same attack.
Her near-death experience in Guyana gave her a "critical lesson about the fragility of our existence and the importance of making every moment count," she said in a 2003 interview. "It's a lesson I've been given more than once, but I try to be grateful, because it's an awareness some people never receive their entire lives."
Speier co-authored legislation in March 2009 that would prevent unscrupulous lenders from participating in Federal Housing Administration programs. She also has supported using federal stimulus money to help embattled municipalities that invested in the failed Lehman Brothers firm.
Speier was one of 22 Democrats to vote against an omnibus appropriations bill in February 2009 because it contained $3.8 billion in earmarks.
The following year, however, she voted along party lines to support legislation that allowed the government to go $1.9 trillion deeper in debt. She voted in favor of the 2010 health care reform bill.
Speier backed a resolution asking President Barack Obama to remove U.S. military forces from Afghanistan by the end of 2010. The measure was defeated.
In 2011, Speier introduced a bill that would create a system within the military to investigate and prosecute rape and other sex crimes. In 2012, she called for a congressional hearing after a sex scandal at a Texas Air Force Base.
She also authored a bill that would require online-tracking firms to allow citizens to opt out of tracking, or else face stiff fines.
Speier's voting record has usually drawn high ratings from abortion-rights, civil rights, consumer, environmental and labor groups. In February 2011 during a House floor debate over stripping funding to Planned Parenthood, Speier said she had had an abortion herself, because her baby would not have survived.
Speier has suffered her share of tragedies. Her first husband, emergency room physician Steve Sierra, was killed in a 1994 traffic accident when she was pregnant with their second child. Sierra's death brought financial problems that cost Speier her home. She remarried in 2001.
Speier joined with three other women in 2007 to write a book, "This Is Not The Life I Ordered: 50 Ways To Keep Your Head Above Water When Life Keeps Dragging You Down."
Source: Associated Press