Katherine 'Kathy' Anne Castor
Katherine 'Kathy' Anne Castor
House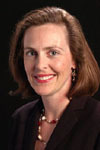 Birthdate: Aug. 20, 1966
Birth Place: Miami, FL, United States
Residence: Tampa, FL
Religion: Presbyterian
First Elected: 2006
Gender: Female

Candidacy
Party: Democratic
State: Florida
Office: House
District: District 14

Education
Undergraduate: Emory University
Degree: BA

Graduate: Florida State University
Degree: JD

Kathy Castor was born in Miami, Fla., and currently resides in Tampa. She earned a bachelor's degree in political science from Emory University and a law degree from Florida State University.
Castor worked as an attorney and was a member of the Hillsborough County Commission. She was elected to the county board in 2002.
She won election to the U.S. House in 2006.
Castor and her husband, Bill, have two children.
Profile
Kathy Castor was elected to Florida's 11th Congressional District in 2006, but it was reconfigured and renumbered as the 14th District due to reapportionment in 2012.
Castor was outspoken in 2010 in her criticism of BP and how it handled the Deepwater Horizon oil spill in the Gulf of Mexico, saying the petroleum giant spent more money "polishing the corporate image" than helping affected areas recover. She subsequently was named to co-chair the new Gulf Coast Caucus. It advocated allocating 80 percent of environmental fines that the federal government collects from BP and other companies to projects in the five Gulf Coast states directly affected by the spill. Otherwise, the fines, which could range from $4.5 billion to $21 billion, would have gone into the general treasury. The measure passed in June 2012 as part of a larger transportation bill.
"This legislation ensures that our small business owners, our fishermen, our tourism industry and others impacted by the disaster get the help they need," Castor said in June 2012. "I have long said taxpayers should not be on the hook for one dime of recovery and research efforts."
She also has been a longtime proponent of improving relations with Cuba. She helped the Florida Orchestra win approval for a cultural exchange with the National Symphony Orchestra of Cuba that began in 2011. Castor also has pushed for unrestricted travel to Cuba, which remains under a U.S. embargo. In September 2011, she hailed the beginning of charter flights from Tampa to Havana under new rules promoted by President Barack Obama's administration.
"The next step is to market Tampa as a 'gateway to Cuba' and create jobs for our small-business owners in the tourism sector," Castor said.
She has led efforts to prevent budget cuts for hurricane-hunter planes based at Tampa's MacDill Air Force base and to maintain its aerial tanker mission. The Air Force plans to replace its current fleet of aging tankers with new planes. Nearly 60 bases in 30 states including MacDill are competing for the tankers.
Castor has been a strong supporter of the 2010 health care reform bill. When Republicans again tried unsuccessfully to repeal the health care overhaul after the Supreme Court upheld it in June 2012, Castor said their actions would have harmed job growth.
"The law makes key investments in health care, including critical investments to increase the number of health care providers," she said.
Castor voted for the 2009 approximately $800 billion economic stimulus package, saying it would create millions of jobs and boost funding for health care and education.
Castor got a boost from her recognizable name when she was elected in 2006. She earned some on her own as a county commissioner and inherited the rest from her parents.
Her father, Don Castor, is a retired judge. Her mother, Betty Castor, is a former University of South Florida president, and before that served as a state senator and Florida education commissioner. Betty Castor, also a Democrat, ran for the U.S. Senate in 2004.
Source: Associated Press