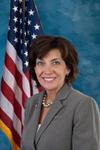 Birthdate: Aug. 27, 1958
Birth Place: Buffalo, NY, United States
Residence: Snyder, NY
Religion: Catholic
First Elected: 2011
Gender: Female

Candidacy
Education
Kathy Hochul was born in Buffalo, N.Y., the daughter of a steel plant worker. She now resides in Snyder. She earned a bachelor's from Syracuse University in 1980 and a law degree from Catholic University in 1984.
Hochul's political activism began in college, where she once led a boycott of the Syracuse University bookstore to protest its high prices, and later tried to persuade the university to name its stadium after alumnus Ernie Davis.
After briefly working for a Washington law firm, Hochul went to work for Rep. John LaFalce, followed by Sen. Daniel Patrick Moynihan. She was elected to the Hamburg Town Board in 1994 and was appointed deputy Erie County clerk that same year. She was appointed county clerk in 2007 after David Swarts resigned.
Hochul won election a special election to Congress in May 2011 following the sudden resignation of Republican Rep. Christopher Lee.
Hochul and her husband, U.S. Attorney William Hochul, have two children.
Profile
Kathy Hochul's May 2011 upset win in New York's Republican-held 26th Congressional District was viewed as a referendum on Republican plans to change Medicare.
She continues to speak about the topic a year after replacing disgraced Republican Rep. Christopher Lee, but her 2012 re-election effort comes in a redrawn district that is considered the most conservative in the state.
Comprising the suburbs of Buffalo and Rochester and rural areas in between, the new 27th District saw about 9,000 more registered Republican and Conservative Party voters added in redistricting, while the number of Democrats was reduced by about 2,000. The district now has 142,000 Democrats, 177,000 Republicans, 11,400 Conservatives and 22,000 independents.
In marking her first year in office on June 1, 2012, Hochul called herself an independent voice for the district and her constituents, noting she was the only New York Democrat to support the balanced budget amendment and has consistently defended gun rights.
She also highlighted her work to eliminate regulations on small businesses and family farms, including restrictions on farm dust and winter manure, and her support for the controversial Canada-to-Texas Keystone XL pipeline supported by House Republicans.
Also in June 2012, Hochul added her name to a list of House Democrats who said they would not attend the Democratic National Convention in September. Her reason, she said, was not reluctance to support President Barack Obama but the belief that her time would be better spent meeting with the constituents who'd put her in office.
Hochul said her first year included 550 constituent meetings. At a February 2012 town hall meeting, she was booed by a crowd critical of her support for Obama's plan to require religiously affiliated employers to include contraception in health care coverage. The plan was later revised.
Source: Associated Press