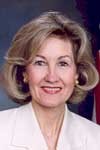 Birthdate: July 22, 1943
Birth Place: LaMarque, TX, United States
Residence: Dallas, TX
Religion: Episcopalian
Gender: Female

Candidacy
Education
Kay Bailey Hutchison was born in Galveston, Texas, and resides in Dallas. She attended the University of Texas, where she earned a law degree in 1967 and a bachelor's degree in 1992.
After graduating from law school and being turned down by larger law firms who were not hiring women at the time, Hutchison worked as a television reporter for KPRC in Houston. She then went into banking in Dallas and later owned and operated a Dallas candy manufacturing company.
After serving as a state legislator and state treasurer, she was elected to the U.S. Senate in a 1993 special election. She was elected to a full term in 1994.
She and her husband, Ray, have two adopted children.
Profile
Kay Bailey Hutchison vaulted to national attention in 1993 when she wrested from Democrats a U.S. Senate seat that had been in their hands since 1875. Coming into the end of her third full term in 2011 she announced she would not seek re-election.
Hutchison ran for governor in 2010 but lost to incumbent Gov. Rick Perry in the Republican primary. She argued during her primary campaign that she would be a better leader and help raise the state from its low rankings in children's health care coverage and high school dropout rates.
Perry, who has never lost an election, hit Hutchison hard over her initial vote in September 2008 for a federal bailout for financial institutions. Hutchison also faced opposition from the right wing of the Texas Republican Party, which has never been a fan of hers because of her moderate positions on abortion and embryonic stem cell research.
In April 2012, Hutchison sponsored and was among 15 Senate Republicans who voted in favor of a bill renewing the Violence Against Women Act. The renewal found support largely among Democrats in the chamber. Majority Republicans opposed to the measure _ not in spirit, but in letter _ offered up alternative language for the bill, but their suggestions were ultimately rejected.
During her tenure in the Senate, Hutchison has partnered with Democrats to protect big federal projects that mean billions of dollars for Texas, such as the space station in Houston, and she has lobbied aggressively to lure new defense contracts to the state. She's considered a champion of veterans, the military and families.
Hutchison sided with all Senate Republicans in voting against the 2010 health care reform bill. Although she had said she would leave the Senate in late 2009 to focus on her run for governor, she later decided to stay, saying fighting the Democrats' health care legislation was crucial.
She once teamed with Democratic Sen. Barbara Mikulski to draft legislation that would allow homemakers the same Individual Retirement Account deductions as working spouses. During the 1993, 1995 and 2005 base-closing rounds, Hutchison worked with House members of both parties to spare Texas bases from the chopping block.
The first woman senator from Texas has weathered controversy as well. Just days after her election, she was accused of using state employees and resources for political gain during her tenure as state treasurer. She was indicted in 1993 on criminal ethics charges, which she said were politically motivated by Democrats. She was acquitted in February 1994 when state prosecutors refused to present their case.
Hutchison supported the Supreme Court nomination of Harriet Miers, who eventually withdrew, and most of then-President George W. Bush's judicial nominees, including Miguel Estrada and Priscilla Owen.
But she voted against the nomination of Arkansas lawyer Leon Holmes for a federal judgeship saying he "doesn't have the fundamental commitment to the total equality of women in our society." That vote triggered criticism from conservative Republicans in Texas.
Hutchison has said she opposes a constitutional amendment banning abortion, but she supports abortion restrictions such as parental consent for minors and bans on late-term abortions and federal funding of abortion.
During Hurricanes Katrina and Rita in 2005, Hutchison worked to get federal aid and resources to storm evacuees and victims. After the storms, she lobbied for federal funds to compensate Texas for the costs of taking in tens of thousands of evacuees and for damage from Hurricane Rita.
Source: Associated Press