Kay Granger
House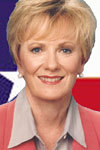 Birthdate: Jan. 18, 1943
Birth Place: Greenville, TX, United States
Residence: Fort Worth, TX
Religion: Methodist
First Elected: 1996
Gender: Female

Candidacy
Party: Republican
State: Texas
Office: House
District: District 12

Education
Undergraduate: Texas Wesleyan University
Degree: BA

Kay Granger was born in Greenville, Texas, and resides in Fort Worth. She earned a bachelor's from Texas Wesleyan University in 1965 and worked as a teacher for 10 years.
In 1985, Granger started an insurance agency and became chairwoman of the Fort Worth Zoning Commission.
After serving one term on the Fort Worth City Council, Granger was elected in 1991 as nonpartisan mayor of Fort Worth, the first woman to hold that seat. She was re-elected in 1993 and 1995.
Granger was elected to Congress in 1996, becoming the first Republican woman from Texas elected to the U.S. House. Her win was a coup for the GOP because former House Speaker Jim Wright, a Democrat, had served the district for more than three decades until resigning in 1989.
Granger is divorced and has three children.
Profile
Kay Granger, a former Fort Worth mayor, is the highest-ranking Republican woman in the U.S. House since her 2006 election to vice chair of the House Republican Conference.
During her 2010 campaign, Granger highlighted many of her opposition votes during what she called the "liberal outrages'' of the 111th Congress. She voted against the 2010 health care reform bill, saying the legislation came to the floor in the "sleaziest, most underhanded way'' she has seen during her time in Congress.
Sitting on the Appropriations Committee's foreign aid panel in May 2012, Granger was the lead author of a measure that sought to deny Pakistan $800 million that was requested for a special fund for training and equipping Pakistan's military in counterinsurgency tactics.
Granger voted in 2009 against President Barack Obama's approximately $800 billion economic stimulus plan. However, just five weeks before the 2008 election, she was one of 65 House Republicans to vote in favor of President George W. Bush's $700 billion Wall Street bailout plan. She said it was her toughest vote yet because most of her constituents opposed the bill.
Granger voted against the Student Aid and Fiscal Responsibility Act, which was part of the 2010 health care reform legislation, saying it would put a greater financial burden on students. She voted against a 2009 hate crimes bill, saying religious group members could be prosecuted based on their speech or other constitutionally protected rights.
As co-chair of the bipartisan Iraqi Women's Caucus, Granger has made several trips to the Middle East to help train women to run for political office and become leaders in their communities. She also led a congressional delegation to the Balkans to review NATO bombing destruction and determine reconstruction needs. She voted against the NATO bombing campaign and criticized President Bill Clinton's military intervention in the Balkans.
Granger, who sits on the Appropriations Committee, has spoken stridently for bolstering federal funding for Lockheed Martin and other defense manufacturers in her district.
Granger has been a proponent of reducing spending and cutting taxes. She supports abortion rights in limited cases and voted against a ban on funding for the Food and Drug Administration to test, develop or approve drugs for inducement of abortion.
Source: Associated Press