Keith Maurice Ellison
House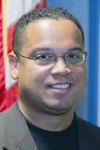 Birthdate: Aug. 4, 1963
Birth Place: Detroit, MI, United States
Residence: Minneapolis, MN
Religion: Muslim
First Elected: 2006
Gender: Male

Candidacy
Party: Democratic
State: Minnesota
Office: House
District: District 5

Education
Graduate: University of Minnesota
Degree: JD

Undergraduate: Wayne State University
Degree: BA

Keith Ellison was born in Detroit and now lives in Minneapolis. He earned a bachelor's from Wayne State University, where he converted to Islam. He earned a law degree from the University of Minnesota.
Ellison worked as a lawyer and later headed the Legal Rights Center, which provides free counsel to underprivileged criminal defendants.
Ellison was elected to the Minnesota House in 2002 and served two terms. He was elected to the U.S. House in 2006, becoming the first Muslim elected to Congress. He was re-elected in 2008 and 2010.
Ellison is divorced and has four children.
Profile
Keith Ellison, running in 2012 for his fourth term in Congress, comes from the left wing of the Democratic Party. He sometimes draws comparisons to the late Sen. Paul Wellstone for his fiery oratory and focus on social justice. He has become increasingly prominent in national media as a spokesman for liberal causes.
A convert to Islam, Ellison made history in 2006 by becoming the first Muslim elected to Congress. He took his oath of office in 2007 on a Quran that once belonged to President Thomas Jefferson.
Ellison also is the first black member of Congress from Minnesota.
Ellison has not toned down his politics since arriving in Washington. He was arrested in April 2009 with four other Democratic members of Congress outside the Sudanese Embassy while protesting the expulsion of aid groups from Darfur. He suggested in August 2010 that White House press secretary Robert Gibbs resign after Gibbs took a crack at the "professional left."
Ellison previously served on the Foreign Affairs Committee and made several trips abroad. He traveled to sub-Saharan Africa in June and July 2008. In December 2008, he made the hajj pilgrimage to Mecca, where he said some people recognized him from his appearances on international TV. He initially declined to disclose the cost of the $13,305 trip sponsored by the Muslim American Society of Minnesota, but later did when a House ethics panel notified him that he was obligated to do so.
Ellison visited the Gaza Strip amid an Israeli offensive in February 2009, becoming one of only a handful of U.S. officials to visit the territory since the militant group Hamas took power there. He did not meet with known Hamas officials.
Ellison voted for President Barack Obama's major initiatives including the 2010 health care reform bill, the 2009 approximately $800 billion economic stimulus package and climate change legislation. He also supported the 2008 financial industry bailout under President George W. Bush.
Ellison lists his priorities as peace, working families, the environment and civil and human rights. In 2012, he worked to help Somali immigrants in Minnesota find ways to get money to relatives in Africa after the banks clamped down on the practice out of fear that terrorist groups in that country might benefit from the money.
In July 2012, Rep. Michele Bachmann, a Minnesota Republican, accused him of unspecified ties to the Muslim Brotherhood, a fundamentalist group with political strength in Egypt. Bachmann offered no proof of her allegations, which Ellison called untrue.
During the 2006 general election campaign, Ellison faced questions about past ties to the Nation of Islam, a militant black group whose leader, Louis Farrakhan, denigrated Jews and gays. Ellison said his association with the group was mostly limited to work on the Million Man March in 1995 to get black men to improve their families and communities.
Source: Associated Press