Kenny Marchant
House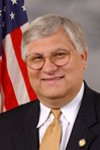 Birthdate: Feb. 23, 1951
Birth Place: Bonham, TX, United States
Residence: Coppell, TX
Religion: Protestant
First Elected: 2004
Gender: Male

Candidacy
Party: Republican
State: Texas
Office: House
District: District 24

Education
Undergraduate: Southern Nazarene University
Degree: BA

Kenny Marchant was born in Bonham, Texas, and now lives in Coppell. He earned a bachelor's from Southern Nazarene University in Oklahoma.
Marchant was a councilman and mayor of Carrollton in the 1980s and was elected to the Texas House of Representatives in 1986. He served as chairman of the Texas House Republican Caucus under Gov. Rick Perry and former Govs. George W. Bush and Bill Clements.
He owns a small investment company and has worked as a homebuilder and land developer in north Texas. He is on the advisory board of Children's Medical Center and heads a nonprofit foundation that funds church-related humanitarian aid around the world.
Marchant first was elected to the U.S. House in 2004.
He and his wife, Donna, have four children.
Profile
Kenny Marchant has been described as a political poker player who has walked the party line and patiently waited for his turn to seek higher office in Washington.
He won election to Congress in 2004 in a new district weighted heavily toward a Republican victory _ a district he helped design.
A fiscal conservative, Marchant refused to seek earmarks in 2010, making him one of four Texas congressional members to do so.
He received a Taxpayers' Friend Award in early 2010 from the 362,000-member National Taxpayers Union. He also received a 91 percent rating from the group, which grades members of Congress on their support for reducing or controlling federal spending.
Marchant adamantly opposed the 2010 health care reform legislation, saying it will bury future Americans "under a mountain of debt with no end in sight."
In June 2012, he sent a letter to Attorney General Eric Holder, requesting an investigation into "SWAT-tings," a practice that is targeting conservative bloggers, Marchant said in a press release. He described "SWAT-tings" as "elaborate schemes whereby the perpetrator calls a local police department to report a violent occurrence inside the target's residence. Unbeknownst to the target, authorities have been summoned and police units swarm the residence." Marchant called the hoaxes dangerous and a suppression of free speech.
As a state representative, Marchant was a key player in a home equity loan bill in 1997. That same year, he sponsored a highly contentious bill that required parental notification before females younger than 18 could receive an abortion. The bill died on a technicality.
His anti-abortion views remain central to his legislation. He has co-sponsored multiple bills that seek to restrict abortion or funding for groups that perform abortions.
Marchant was shoved into the media spotlight in 1998, when his wife, Donna, and two of his children were involved in a fatal church van accident. His namesake son, 14 at the time, was left paralyzed from the waist down while his wife and daughter suffered severe injuries. The van had been on a mission trip to rural Mexico.
Missionary work is a passion for Marchant. He has visited countries all over the world, including Russia, Haiti, Bulgaria and Mexico to deliver clothing, antibiotics and other supplies and to help build churches.
With his earnings from land development, Marchant created a private foundation in 1989. The foundation provides scholarships to his alma mater, Southern Nazarene University, makes loans to churches for renovation projects and buys goods to donate on mission trips.
Source: Associated Press