Kevin Cramer
House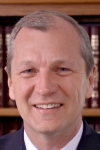 Birthdate: Jan. 21, 1961
Birth Place: Rolla, ND, United States
Residence: Bismarck, ND
Religion: Lutheran
Gender: Male

Candidacy
Party: Republican
State: North Dakota
Office: House
District: At Large

Education
Undergraduate: Concordia College
Degree: BA

Graduate: University of Mary
Degree: MA

Kevin Cramer was born in Rolla, N.D., and now lives in Bismarck. He earned a bachelor's in social work from Concordia College in 1983 and a master's in management from the University of Mary in 2003.
Cramer was the North Dakota Republican Party's director and chairman in the late 1980s and early 1990s. After the 1992 election of GOP Gov. Ed Schafer, Cramer worked as the state's tourism director and economic development director.
He ran twice for the U.S. House, losing to incumbent Democrat Earl Pomeroy in 1996 and 1998.
In 2001, after Schafer left office, Cramer became the first director of a foundation named for Schafer's father, Harold Schafer, at the University of Mary. The foundation offers faith-based business training for students.
Cramer was appointed to North Dakota's Public Service Commission in August 2003, replacing Republican Leo Reinbold, who resigned. He was elected to a full six-year term in 2004 and re-elected in 2010.
Cramer and his wife, Kris, have five children.
Profile
Kevin Cramer hopes his success on the ballot as a North Dakota public service commissioner will help end his losing streak as a candidate for the U.S. House.
A longtime Republican activist who has served both as the North Dakota GOP's director and state chairman, Cramer was a congressional candidate-in-waiting while he worked as North Dakota's tourism director and economic development director during the administration of GOP Gov. Ed Schafer.
Incumbent Democrat Earl Pomeroy beat Cramer in each of his two bids for the U.S. House, in 1996 and 1998.
In August 2003, five years after his last House race, Cramer was appointed to the North Dakota Public Service Commission, a three-person panel that regulates electric and gas utilities, coal mining and land reclamation, pipeline and wind turbine placement, grain elevators and auctioneers.
Cramer won his first six-year commission term in 2004, getting 65 percent of the vote.
In 2010, Cramer sought the endorsement of North Dakota Republican convention delegates to run against Pomeroy a third time. He was beaten by Fargo state Rep. Rick Berg, who went on to defeat Pomeroy handily in the November 2010 elections.
During his 2010 House race, Cramer disclaimed any interest in running for re-election to the commission. After his convention loss to Berg, however, Cramer accepted the delegates' re-election endorsement, and won 61 percent of the vote that fall against Democrat Brad Crabtree.
This year, with an open U.S. House seat _ Berg decided to run for the U.S. Senate _ Cramer declared in January 2012 he would bypass the regular GOP convention endorsement process and run in the Republican primary in June. He defeated the favored GOP candidate, fellow public service commission member Brian Kalk, with 54 percent of the vote.
During his political career, Cramer has built a reputation as an outspoken conservative. He has spoken at North Dakota tea party rallies, and appealed to social conservatives with his evangelical Christian beliefs.
"Whatever else you take away from visiting this site, I hope you know that my public service is an extension of my service to Christ," Cramer says on his campaign website. "Every day, I strive to be more like Him and fail, and am grateful for His grace."
Democrats have been critical of Cramer for taking campaign contributions from oil and coal companies, because the commission regulates the placement of oil pipelines, coal mines and reclamation of land that has been mined for coal.
Two environmental groups are alleging in a federal lawsuit that Cramer's acceptance of industry money violates federal law, a claim Cramer dismisses.
Source: Associated Press