Kevin Owen McCarthy
House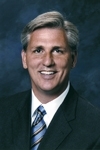 Birthdate: Jan. 26, 1965
Birth Place: Bakersfield, CA, United States
Residence: Bakersfield, CA
First Elected: 2006
Gender: Male

Candidacy
Party: Republican
State: California
Office: House
District: District 23

Education
Undergraduate: California State University - Bakersfield
Degree: BA

Graduate: California State University - Bakersfield
Degree: MBA

Kevin McCarthy was born in Bakersfield, Calif., where he still resides. He earned bachelor's and master's degrees in business from California State University-Bakersfield.
McCarthy began his career as a small business owner and entrepreneur, starting a deli before he turned 21. He also served as an elected trustee on the Kern Community College District Board.
He was elected in 2002 to the California Assembly, where he served two terms and was the Republican minority leader.
He was elected to the U.S. House in 2006.
McCarthy and his wife, Judy, have two children.
Profile
Kevin McCarthy's political career earned him a posting to the position of majority whip in 2011.
Also in 2011, McCarthy criticized President Barack Obama and said the president wasn't doing enough to create jobs. Obama at the time was publicly pushing legislators to act on a jobs bill and other economic proposals he had put forth, claiming that it was the GOP who was holding things up. McCarthy said it was Obama not Republicans who was playing partisan games.
"Americans deserve progress, not partisanship," McCarthy said at the time. "Americans deserve a long-term solution to our nation's spending problem so that we don't run up trillion-dollar annual deficits."
He joined the majority of his fellow Republicans in 2010 in voting against President Obama's signature legislative initiatives: the health care reform bill and the overhaul of regulations governing the financial industry.
McCarthy voted against both the 2008 $700 billion bank bailout and the approximately $800 billion economic stimulus package in 2009.
The former owner of a deli, McCarthy has often said his goal in Washington, D.C., is to be the voice for small business, and he has worked to support job growth and legislation supporting small businesses.
His political career is tied to the man he replaced in Congress, former Ways and Means Chairman Bill Thomas.
Thomas, a fellow Republican, was a political mentor for McCarthy, who served as Thomas' district director before joining the California Assembly. When Thomas announced his retirement from Congress in March 2006, McCarthy quickly announced his bid for the 22nd District seat, a move that had been widely expected.
McCarthy easily won the Republican nomination in the GOP-friendly Central Valley district, which gave President George W. Bush his highest percentage of the vote in the state _ 68 percent _ in the 2004 presidential election.
McCarthy worked in the House on the revised farm bill and, as the freshman representative on the Republican Steering Committee, he helped other freshmen secure committee assignments. The newspaper Roll Call named him "Rookie of the Year" of the 110th Congress.
He was chosen to serve as chairman of the 2008 Republican Platform Committee, which outlined the party's key positions ahead of that year's Republican National Convention in Minnesota.
McCarthy was appointed in 2009 to serve as Chief Deputy Republican Whip. He has also helped lead the GOP effort to recruit and elect candidates to the House.
McCarthy, as a freshman state legislator, was selected by his Republican colleagues to be minority leader, and the nonpartisan California Journal named him "Rookie of the Year."
McCarthy worked in the California Assembly with Gov. Arnold Schwarzenegger on a legislative redistricting measure that Schwarzenegger brought to the ballot in 2005 as part of a package of reforms ultimately rejected by voters. McCarthy's measure would have established an independent commission to draw legislative districts.
McCarthy also focused in the Assembly on measures promoting "pay as you go" infrastructure building in California.
Source: Associated Press