Kevin Patrick Brady
House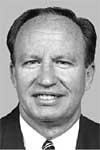 Birthdate: April 11, 1955
Birth Place: Vermillion, SD, United States
Residence: The Woodlands, TX
Religion: Catholic
First Elected: 1996
Gender: Male

Candidacy
Party: Republican
State: Texas
Office: House
District: District 8

Education
Undergraduate: University of South Dakota
Degree: BS

Kevin Brady was born in Vermillion, S.D., and now lives in The Woodlands, Texas, a suburb north of Houston. He earned a bachelor's in mass communications from the University of South Dakota in December 1990.
Brady was president of the South Montgomery County Woodlands Chamber of Commerce from 1985 to 1996. He served as chairman of the Council of Chambers of Greater Houston and is a former president of the East Texas and Gulf Coast chamber executive associations.
Brady served in the Texas House from 1991 to 1996.
He was elected to the U.S. House in 1996.
Brady and his wife, Cathy, have two sons.
Profile
Kevin Brady campaigned his way to Congress in 1996 on a promise to introduce legislation that would issue a deadline for every federal agency to prove its worth or lose funding.
His Federal Sunset Act, which proposes abolishing obsolete agencies and eliminating duplication by forcing every federal program to justify its existence or face elimination, has yet to be approved by Congress.
And it's not for lack of trying. Brady has submitted the act and related measures numerous times since being elected, most recently in 2011.
Brady was involved in congressional negotiations in late 2011 and early 2012 over extending President Barack Obama's payroll tax cut. At one point during the negotiations, Brady commented on the partisanship of the process, saying he felt like Republicans were "re-enacting the Alamo, with no reinforcements and our friends shooting at us." After months of deadlock with both parties trying to find a way to pay for the tax cut, House Republicans relented and the measure was extended in February 2012.
Brady, who has risen to deputy GOP whip in the House, has earned a reputation as a "nice guy" who prefers a low-key approach.
He broke with that image in November 2009 during a testy confrontation with Treasury Secretary Timothy Geithner over government spending and the budget deficit. During Geithner's appearance before the Joint Economic Committee, where Brady was the senior minority member, Brady produced a giant multicolored chart showing the complexities of a proposed health care reform plan. The quarrel climaxed with Brady telling Geithner to resign and the treasury secretary firing back that he agreed with nearly nothing Brady had said.
Brady has worked to guarantee state sales taxes are deductible in states that don't have an income tax _ such as Texas. He embraces free trade agreements as key to economic recovery and has long has been an advocate for international trade.
Brady touts as achievements the passage of the Teacher Liability Protection Act, which protects teachers seeking classroom discipline against frivolous lawsuits, and establishing a national network of university homeland security research centers, including one at Texas A&M. Before redistricting, Texas A&M was in his district, and during his tenure Brady has pushed to nearly triple federal research funding to the school.
In November 2005, Brady pleaded no contest to driving under the influence in South Dakota and had his driving privileges in that state suspended for 30 days. "I was wrong and I deeply apologize. This is an extremely important law. Perhaps others, especially young people, can learn from my mistake as I have," Brady said.
While a state lawmaker, Brady successfully authored legislation in the Texas House requiring convicted murderers serve a minimum of 40 years of a life sentence. A gunman killed Brady's father in 1967 and Brady was one of only two Republicans in the state House who voted against a measure legalizing concealed handguns.
Source: Associated Press