Kurt Schrader
House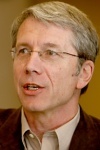 Birthdate: Oct. 19, 1951
Birth Place: Bridgeport, CT, United States
Residence: Canby, OR
First Elected: 2008
Gender: Male

Candidacy
Party: Democratic
State: Oregon
Office: House
District: District 5

Education
Undergraduate: Cornell University
Degree: BA

Graduate: University of Illinois
Degree: DVM

Kurt Schrader was born in Bridgeport, Conn., and now resides in Canby, Ore. He earned a bachelor's degree from Cornell University before earning a bachelor's of science and a doctorate in veterinary medicine from the University of Illinois.
Schrader worked as a veterinarian and ran an organic farm.
He spent more than a decade in the Oregon Legislature and was a well-known figure in the state, thanks largely to his chairmanship of the Joint Ways and Means Committee, which makes budget decisions.
He was elected to the U.S. House in 2008.
Schrader and his former wife, Martha Schrader, filed for divorce in 2009. They have four children.
Profile
Kurt Schrader represents Oregon's most politically competitive congressional district, split almost evenly between Republicans and Democrats. He's developed a moderate voting record, occasionally bucking Democratic leaders.
He narrowly beat back a tough challenge from Republican Scott Bruun in 2010, and the GOP began targeting him almost immediately for the 2012 election. National Republicans bought advertisements attacking Schrader on cable television in 2011. But the party was unable to recruit a big-name candidate to challenge him, and Schrader's re-election prospects are strong against Salem business owner Fred Thompson.
Thompson has emphasized his experience owning and managing companies but hasn't raised the money needed to introduce himself to voters and convince them to oust Schrader.
Schrader has joined the Blue Dog Coalition of fiscally conservative Democrats, and he's earned high marks from the National Rifle Association for his voting record on gun rights.
Since his election to the House in 2008, Schrader has taken on agricultural issues and pledged to work with farmers, ranchers and logging representatives in a district with a sizable agricultural voting bloc. He worked with Republican Rep. Greg Walden on responsible logging issues and says logging interests have to be acknowledged for their economic impact.
In 2011 and 2012, he worked with Walden and fellow Democrat Peter DeFazio on a plan to increase logging in some areas while setting aside others for conservation. The plan was a compromise that tried to balance timber and environmental interests, but the trio was unable to get the plan through the House.
One of his first votes in Congress was in support of the approximately $800 billion economic stimulus package promoted by President Barack Obama in 2009.
Schrader jumped into the 2008 race for the 5th District seat after a surprise announcement by the popular Democratic incumbent, Darlene Hooley, that she wouldn't seek re-election. Although both parties considered it a swing district, Schrader won by a comfortable margin over wealthy GOP businessman Mike Erickson.
Erickson spent $2 million of his own money on the 2008 race but was dogged throughout the campaign by allegations that he paid for his girlfriend's abortion. Erickson, who touted himself as pro-life, repeatedly denied the allegation.
The 5th District includes some of the Portland suburbs, the state capital of Salem, portions of the more rural Willamette valley and a chunk of the Oregon Coast. Redistricting after the 2010 census added a section of Downtown Portland and a smattering of Republican voters, but Democrats retained a slight edge.
Schrader has tried to maintain regular contact with constituents, and he's returned regularly to the district since being elected, appearing at various public forums.
Source: Associated Press