Kyrsten Sinema
House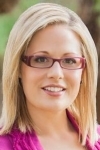 Birthdate: July 12, 1976
Birth Place: Tucson, AZ, United States
Residence: Phoenix, AZ
Gender: Female

Candidacy
Party: Democratic
State: Arizona
Office: House
District: District 9

Education
Graduate: Arizona State University
Degree: JD

Graduate: Arizona State University
Degree: MA

Graduate: Arizona State University
Degree: PhD

Kyrsten Sinema was born in Tucson, Ariz., and has lived in Phoenix since 1995. She attended Arizona State University where she earned a master's in social work, a law degree and a doctorate in justice studies. She practices criminal defense law in Phoenix and also is an adjunct professor at ASU's School of Social Work.
Sinema served three terms as a representative in the Arizona Legislature and was the assistant leader to the House Democratic Caucus from 2009 to 2010. She was elected to the state Senate in 2010 but resigned in early 2012 to seek a seat in Arizona's newly created 9th Congressional District.
Sinema ran unsuccessfully for the state Legislature in 2002 and for the Phoenix City Council in 2001, both times as an independent candidate.
She is single.
Profile
Kyrsten Sinema beat out two other Democratic heavyweights to secure the party's nomination for Arizona's 9th Congressional District seat in 2012.
Sinema, an attorney who resigned from the Arizona Legislature when she announced her congressional run, said her priority if elected will be to work across the aisle with Republicans to be effective in creating a stronger economy and protecting the middle class from payroll tax cuts.
She served three years in the state House before being elected as a state senator in the Phoenix area.
The onetime assistant House Democratic leader led opposition to efforts to ban same-sex marriages, saying that lawmakers should spend their time on more pressing issues facing the state. Voters approved a constitutional amendment to define marriage between a man and a woman in 2008.
She also voted against a law prohibiting employers from knowingly hiring illegal immigrants and Arizona's tough new immigration law known as SB1070, which courts have not upheld in its entirety. Her idea of fixing what she calls a broken immigration system is securing the border, cracking down on criminal cartels, sanctioning employers who hire illegal immigrants and stopping human trafficking by coyotes. She also says immigrants already here should pay back taxes and a fine, learn English and pass criminal background checks as part of a legalization process.
Sinema supported the 2010 health care reform bill and, as a member of President Barack Obama's health reform task team, was at the White House when he signed it into law. She opposed an Arizona ballot measure to ban forced participation in health care reforms that was approved by voters in 2010.
She has joined other Democrats in saying that Arizona had become a mockery because of state laws requiring Obama to show his birth certificate to get on the Arizona ballot, approving the controversial immigration measure, and making it illegal to create "human-animal" hybrids by fertilizing human eggs with nonhuman sperm and vice versa.
"Arizona is in the midst of a fiscal crisis. We've cut school funding. And they pass a bill questioning Obama's citizenship? For real?" Sinema said in April 2011.
Her priorities in her bid for Congress include job creation, responsible budget choices, health care, education, and protecting Medicare and Social Security.
Source: Associated Press