Lee Raymond Terry
House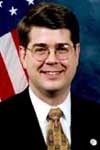 Birthdate: Jan. 29, 1962
Birth Place: Omaha, NE, United States
Residence: Omaha, NE
Religion: United Methodist
First Elected: 1998
Gender: Male

Candidacy
Party: Republican
State: Nebraska
Office: House
District: District 2

Education
Undergraduate: University of Nebraska
Degree: BA

Graduate: Creighton University
Degree: JD

Lee Terry was born and raised in Omaha, Neb., where he still resides. He earned a bachelor's from the University of Nebraska-Lincoln in 1984 and a law degree from Creighton University in 1987.
Terry was a practicing attorney and has also worked as a bartender, waiter and lifeguard.
He was elected to the Omaha City Council in 1991 at age 29.
He won election to the U.S. House in 1998.
Terry and his wife, Robyn, have three children.
Profile
Unlike his two other Republican congressional colleagues in Nebraska, Lee Terry has faced a number of increasingly formidable opponents in recent elections.
But in 2012, Terry has the advantage of a gift given him last year by Nebraska's overwhelmingly Republican Legislature: redistricting.
State lawmakers redrew Nebraska's 2nd District lines, shifting traditionally Democratic votes out of the Omaha-based district and giving Republicans more of an advantage where registered voters had previously been almost evenly split between Democrats and Republicans.
While the shift is good news for Terry, it does not give him a lock on re-election.
For starters, Terry is still fighting a "do nothing" stigma he has battled since 2004, some six years after he was first elected to the seat.
Terry maintains he has a strong record of achievement in Washington, pointing to work in helping constituents and co-sponsoring or supporting countless pieces of legislation. He also says he has been a leader in the House on issues including fuel efficiency and ethics reform.
His detractors, however, say he has little to show after having served nearly 14 years. The only bill he's introduced and seen to fruition in that time is the renaming of an Omaha post office early in his tenure. A bill he introduced in 2011 to fast-track a proposed oil pipeline through Nebraska has seen traction, but drawn heavy criticism from many Nebraskans who worry the pipeline's previous route through the state could put ranch and farmland, as well as the state's groundwater, at risk.
Terry serves on the Energy and Commerce Committee and earned a spot in 2011 on the powerful Ways and Means Committee, but some believe he should have worked harder to obtain leadership positions by now. He has argued that even with seven terms under his belt, there are many other congressional members with much more seniority who get first dibs on plum assignments.
Terry must also contend in 2012 with anti-incumbent sentiment and an electorate that has only grown increasingly frustrated with partisan gridlock in Washington.
But while Terry's longevity might serve as a hindrance, it is also an asset.
"It gives him name recognition," said David Kramer, a former Nebraska GOP chairman and 2006 Senate candidate who has been involved in state politics for 30 years.
Terry's political ties also make it easier to raise campaign money. He benefits from a renewed commitment to the district from state Republicans, who were embarrassed in 2008 when then-presidential candidate Barack Obama won the electoral vote tied to Terry's congressional district, making Obama the first Democrat to win any electoral votes in Nebraska since 1964.
"Republicans don't want to see that happen again, and will work hard to make sure it doesn't," Kramer said.
Source: Associated Press