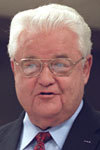 Birthdate: Jan. 10, 1934
Birth Place: Harrison County, MO, United States
Residence: Des Moines, IA
Religion: Community of Christ
First Elected: 1996
Gender: Male

Candidacy
Education
Leonard Boswell was born in Harrison County, Mo., and raised on farms in Ringgold and Decatur counties in southern Iowa. He earned a bachelor's degree in business administration from Graceland College.
Boswell was drafted into the Army in 1956. He served 20 years and retired as a lieutenant colonel. During his service he became a pilot, serving two tours in Vietnam and receiving two Bronze Stars.
He moved back to Iowa after retiring from the military and began working on his family's farm operation.
Boswell was elected to the state Senate in 1984. He served until 1996, when he was elected to the U.S. House.
Boswell and his wife, Dody, have three grown children.
Profile
Leonard Boswell, the congressmen from Iowa's 3rd Congressional District, faces a tough road to re-election in 2012 after redistricting set up a contest between two incumbents. After Iowa lost a congressional seat, Republican Rep. Tom Latham moved into the newly redrawn 3rd District and will face Boswell in the November general election.
The campaign is expected to be extremely expensive, in part because Latham is a close friend of House Speaker John Boehner, who came to the Des Moines area in the spring of 2012 to raise money for Latham.
Boswell is seen as a somewhat conservative Democrat, but he supported the 2010 health care reform bill. That issue likely will be key in his race with Latham, who, like most Republicans, opposed the measure.
Crossroads GPS, by far the largest and most influential super PAC during the 2010 midterm elections, has spent $300,000 in Iowa targeting Boswell for supporting the health care overhaul.
In addition, Boswell is considered one of the most vulnerable incumbent Democrats, in part because of his age and health concerns.
In 2012, as Congress was sparring over student loans, Boswell voted against a House bill that would have kept interest rates on federal student loans from doubling but also eliminated a preventive health care fund in the health care law.
Boswell has used his seat on the Agriculture Committee to work for the interests of his farming constituents. He also pushed for highway funding for his district.
In April 2012, he introduced legislature that would require county workload assessments of Farm Service Agencies before they could be closed or relocated by the Department of Agriculture.
"I believe that any decision to close these offices must include an assessment of county workload to ensure that the needs of our producers are met and our conservation goals are maintained," he says.
He was one of 100 House members who in 2011 signed a letter asking Congress' debt-reduction committee to consider all options.
He helped craft the aviation security bill in 2001, and that same year introduced the Rural America Technology Enhancement Act, which sought to improve Internet access in rural areas.
Republicans offered Boswell a position on the House Appropriations Committee in March 2001 if he switched parties, but Boswell declined.
He was elected to the U.S. House in 1996. Redistricting after the 2000 Census placed Boswell in a large, Republican-dominated district, so he moved to Des Moines and won election to the newly created 3rd District U.S. House seat, which leans Democratic but can be competitive.
Boswell was an Iowa state lawmaker for 12 years, representing one of the most Republican and rural districts in the state and styling himself as a conservative Democrat who appeals to both parties.
Boswell rose to power during his tenure in the state Senate, becoming chairman of the Appropriations Committee and then being elected president of the Senate, the second-ranking member of that chamber.
Source: Associated Press