Linda T. Sanchez
House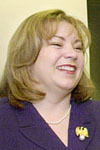 Birthdate: Jan. 28, 1968
Birth Place: Orange, CA, United States
Residence: Lakewood, CA
Religion: Roman Catholic
First Elected: 2002
Gender: Female

Candidacy
Party: Democratic
State: California
Office: House
District: District 38

Education
Undergraduate: University of California - Berkeley
Degree: BA

Graduate: University of California - Los Angeles
Degree: JD

Linda Sanchez was born in Orange, Calif., and now lives in Lakewood. She earned a bachelor's in Spanish literature from the University of California-Berkeley and a law degree from the University of California-Los Angeles.
She worked on her sister Loretta Sanchez's successful 1996 congressional campaign.
Linda Sanchez is a labor and civil rights lawyer, and she worked for several unions before winning election to the U.S. House in 2002.
Sanchez co-wrote a book with her sister titled "Dream in Color: How the Sanchez Sisters Are Making History in Congress." The book was published in September 2008.
Sanchez and her husband, James, have a child together. Both of them were previously married, and James has three sons from a previous marriage.
Profile
Linda Sanchez won election to the U.S. House in 2002, joining her sister, Rep. Loretta Sanchez, and becoming part of the first sister act in Congress.
Linda Sanchez has supported labor-backed causes in Congress _ not surprising, given her background working with unions in Southern California.
She co-founded the congressional Labor and Working Families Caucus, and led the successful fight to reverse President George W. Bush's post-Hurricane Katrina suspension of the Davis-Bacon Act. The law requires government contractors to pay prevailing wages on public works projects and typically gives an advantage to unionized companies bidding for federal contracts.
Sanchez lead an inquiry into the pension plan for retired National Football League players, many of whom are disabled from injuries sustained from playing football.
Sanchez became the first Latina to serve on the powerful House Ways and Means Committee and the Judiciary Committee. She led an investigation from those positions into whether the Bush administration fired nine federal prosecutors in 2006 for political reasons.
She ruled in July 2008 as chairman of the Judiciary Committee that former presidential aide Karl Rove broke the law by defying a congressional subpoena to testify about allegations of political pressure at the Justice Department.
Sanchez made headlines in 2009 for introducing legislation designed to protect children from Internet bullying, and in 2010 for making allegations that Arizona's tough new immigration law can be traced to white supremacy groups. Supporters of the law disputed Sanchez's claim, saying the law was adopted after the federal government failed to take adequate action to curb illegal immigration.
In 2011, Sanchez proposed legislation to require schools and school districts to ban bullying and to extend job training provided to disabled veterans. She has also proposed a bill to increase penalties for trafficking of counterfeit drugs.
Sanchez was named "Funniest Celebrity in Washington" in 2006 at an event sponsored by the Congressional Hispanic Caucus.
She and her sister made news when they quit the caucus in 2007 after Loretta accused the caucus chairman, Democratic Rep. Joe Baca, of calling her a "whore."
The controversy was recounted in their joint memoir, "Dream in Color: How the Sanchez Sisters Are Making History in Congress," published in 2008. The book traces their paths to Washington, where they found themselves a minority within a minority _ Latina women in an institution dominated by white men.
The sisters suffered a family tragedy in October 2008 when their brother, Henry Sanchez, was found dead following a boating accident off the waters of Los Angeles.
Linda Sanchez was an early supporter of then-Sen. Barack Obama in his 2008 bid for the Democratic presidential nomination. For her loyalty, she got to deliver a speech at the 2008 Democratic National Convention in Denver. She also served as co-chair of Obama's inauguration committee.
Source: Associated Press