Lloyd Doggett
House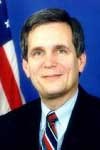 Birthdate: Oct. 6, 1946
Birth Place: Austin, TX, United States
Residence: Austin, TX
Religion: Methodist
First Elected: 1994
Gender: Male

Candidacy
Party: Democratic
State: Texas
Office: House
District: District 35

Education
Undergraduate: University of Texas
Degree: BA

Graduate: University of Texas
Degree: JD

Lloyd Doggett was born in Austin, Texas, where he still lives. He earned business and law degrees from the University of Texas.
Doggett served in the state Senate from 1973 to 1985 and lost a 1984 bid for the U.S. Senate. He served on the Texas Supreme Court from 1989 to 1995.
He was first elected to the U.S. House in 1994.
Doggett and his wife, Libby, have two daughters.
Profile
Lloyd Doggett of Austin, one of the most reliable liberals in Congress, rose through the ranks of Texas politics _ becoming a state senator at age 26 _ before landing in the U.S. House.
He is running for re-election in 2012 in a new district, the 35th, after the Republican-controlled Texas Legislature redrew his current 25th District. Despite the remapping, Doggett easily defeated Bexar County Tax Assessor Sylvia Romo in the 2012 Democratic primary.
This was the second attempt to redistrict Doggett out of office. He successfully evaded the GOP's cross hairs in 2003, jumping from the 10th District to the predominantly Hispanic 25th District after another round of redistricting by state Republicans made the 10th so overwhelmingly Republican that Democrats didn't bother fielding a candidate.
Austin is home to the state Capitol, where voters were avidly tuned into the redistricting battle and Doggett, the hometown politician, was seen as one of the warriors fighting against the Republicans' efforts.
Doggett has been an ardent supporter of President Barack Obama, voting in 2009 for the approximately $800 billion economic stimulus package and in 2010 for the health care reform bill.
He was one of many Democrats in 2011 who voted against a constitutional budget amendment, helping bring the House short of a two-thirds majority vote needed to pass the measure.
"A constitutional amendment is not a path to a balanced budget," Doggett said at the time. "It is only an excuse for members of this body failing to cast votes to achieve one."
Doggett continues to rally behind pet causes, such as the environment. He is known as an ally of personal injury trial lawyers, looks regularly for opportunities to shut down use of overseas tax shelters and has often played the antagonist to supporters of tax measures that benefit the wealthy.
Doggett has worked to counter Republican changes to Medicare and Social Security that he thought would hurt the entitlement programs. He also voted in favor of a bill that would allow the importation of prescription drugs from Canada.
He used his expertise with parliamentary rules to stall a $15 billion airline bailout bill Congress sought after the Sept. 11 terrorist attacks, saying more debate was needed before members voted on the high-cost measure. He also led Democratic opposition to the resolution authorizing use of force in Iraq.
Doggett authored 124 laws in the Texas Senate, including creation of the Texas Commission on Human Rights, a ban on so-called cop killer bullets and a sunset act requiring periodic review of state government agencies.
He is one of the original "killer bees," a group of liberal Democratic state lawmakers who bolted from the Capitol in 1979 and hid out to prevent a rule change affecting the Democratic primary.
Source: Associated Press