Lois Capps
House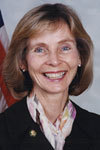 Birthdate: Jan. 10, 1938
Birth Place: Ladysmith, WI, United States
Residence: Santa Barbara, CA
Religion: Lutheran
First Elected: 1998
Gender: Female

Candidacy
Party: Democratic
State: California
Office: House
District: District 24

Education
Undergraduate: Pacific Lutheran University
Degree: BS

Graduate: University of California - Santa Barbara
Degree: MA

Graduate: Yale University
Degree: MA

Lois Capps was born in Ladysmith, Wis., and now lives in Santa Barbara, Calif. She earned a bachelor's in nursing from Pacific Lutheran University in 1959, a master's in religion from Yale University in 1964 and a master's in education from the University of California-Santa Barbara in 1990.
She met her late husband, Walter Capps, while he was a student at Yale Divinity School. Walter Capps was elected to Congress in 1996. He died of a heart attack in October 1997 and Lois Capps won a special election in March 1998 to fill his seat.
Lois and her late husband had a son and two daughters. One of the daughters died of cancer in 2000.
Profile
Lois Capps succeeded her late husband, Walter Capps, in California's traditionally Republican 23rd District. Walter Capps died of a heart attack less than a year after winning election to the seat in 1996.
During her time in Congress, Capps has backed legislation to ban oil drilling off the California coast and advocated for campaign finance reform. Her district includes some of California's most pristine shoreline, and she supports most environmental legislation, including funding to clean underground storage tanks.
Capps was a nurse for 20 years and draws on her health care background, focusing on Medicare reform, nursing shortages, patients' rights and mental health. She has helped pass legislation to curb underage drinking, bring CPR instruction to schools and provide Medicare coverage to patients suffering from Lou Gehrig's disease.
Capps is the founder and co-chairwoman of the Congressional School Health and Safety Caucus, which aims to educate House members and their aides on issues such as playground safety, school sports safety, nutrition in schools, immunizations and the role of school nurses.
She was named "the nicest member of Congress" in a 2006 survey of congressional aides for Washingtonian magazine.
Capps led a campaign by approximately 40 lawmakers in 2007 urging women's magazines such as Cosmopolitan, Vogue and Glamour to stop accepting tobacco ads, saying such ads threaten the health of teenage and young women readers.
During the 2008 Democratic presidential primary, Capps faced a tough endorsement decision between then-Sens. Hillary Rodham Clinton and Barack Obama. Former President Bill Clinton campaigned for Capps' husband, her daughter worked for the Clinton White House, and her son-in-law is a spokesman for Obama. Capps endorsed Obama in April 2008, saying his call for change in Washington was the biggest factor in her decision.
Capps voted for the 2008 $700 billion bank bailout and the approximately $800 economic stimulus package in 2009.
She voted for two of President Obama's signature legislative initiatives in 2010: the health care reform bill and the overhaul of regulations governing the financial industry.
Capps played a lead role in 2010 in calling for a presidential commission to investigate the BP oil spill in the Gulf of Mexico.
In 2012, she was the only House member to vote against a resolution condemning the government of Iran for the persecution of Youcef Nadarkani for apostasy. Her spokeswoman later said she cast the no vote by mistake, and in fact strongly supported the resolution.
With her district newly redrawn in 2011, Republicans targeted her seat and fielded veteran politician Abel Maldonado to run against her, forcing Capps to wage a more aggressive campaign in 2012 than she had been used to.
Source: Associated Press