Louise McIntosh Slaughter
Louise McIntosh Slaughter
House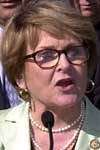 Birthdate: Aug. 14, 1929
Birth Place: Harlan County, KY, United States
Residence: Fairport, NY
Religion: Episcopalian
First Elected: 1986
Gender: Female

Candidacy
Party: Democratic
State: New York
Office: House
District: District 25

Education
Undergraduate: University of Kentucky
Degree: BS

Graduate: University of Kentucky
Degree: MPH

Louise Slaughter was born in Harlan County, Ky., and now resides in Fairport, N.Y. She attended the University of Kentucky where she earned a bachelor's degree in microbiology and a master's degree in public health.
She is the only microbiologist in Congress.
Slaughter served in the Monroe County Legislature for two terms, from 1976 to 1979. She served in the New York Assembly from 1982 to 1986.
She was first elected to the U.S. House in 1986.
Slaughter and her husband, Robert, have three children.
Profile
Louise Slaughter, the representative of New York's 28th Congressional District, had to do some campaigning for a 14th term from a wheelchair after breaking her leg in a fall while crossing a midtown Manhattan street in April 2012.
One of the oldest members of Congress, born in 1929, she also had to fend off rumors that she was seriously ill, saying she wouldn't be running for office in New York's redrawn 25th Congressional District if that were the case.
Slaughter has been known for years in the House as a champion for women's rights, co-authoring the Violence Against Women Act, co-chairing the Pro-Choice Caucus and working toward creation of the Office of Research on Women's Health at the National Institute of Health.
As ranking member of the House Rules Committee, she has overseen a critical but little-noticed step in the legislative process, where lawmakers decide how a bill will come to the floor, and what attempts can be made to change the legislation.
Her position led Republicans during the 2010 debate over health care reform to criticize what they dubbed the "Slaughter Solution," a maneuver designed to free House members from having to vote directly on the Senate version of the controversial bill. Instead, her committee would have had to approve the process.
Responding to the June 2012 Supreme Court ruling on the health care reform bill, she said the law has improved access to health care for millions of people and ensures "that being a woman is no longer a pre-existing condition and a justification for higher premiums."
In February 2009, Slaughter introduced the Military Domestic and Sexual Violence Response Act, calling for an Office of the Victims' Advocate within the Defense Department to improve access to services for victims of domestic or family violence, sexual assault or stalking in the military.
Slaughter supported the approximately $800 billion economic stimulus bill passed in February 2009. A month later, she introduced the Preservation of Antibiotics for Medical Treatment Act, which would limit the use of antibiotics on livestock to guard against the creation of antibiotic-resistant diseases that cannot be fought with modern medicine.
In 2004, Slaughter fought Justice Department efforts to subpoena medical records of women who have procedures critics call partial-birth abortions. "These subpoenas were just the latest example of this administration's willingness to go to any length to restrict a woman's right to choose," she said at the time.
She has spent years pushing legislation to outlaw genetic discrimination, and she co-sponsored legislation signed into law by then-President George W. Bush in 2008 that was designed to protect people from losing their jobs or health insurance when genetic testing reveals they are susceptible to costly diseases. "This is a tremendous victory for every American not born with perfect genes," she said at the time.
In a region heavily dependent on free trade, Slaughter has opposed various free trade agreements. In November 2011, she said on the House floor, "This Congress needs to wake up, and fast. We are currently in a race with countries like Germany and China to see who will dominate green manufacturing for a generation to come. If we continue the era of giveaway trade, we will utterly lose this race with devastating effects across our economy. "
On the 10-year anniversary of the North American Free Trade Agreement in 2003, Slaughter argued the state's loss of manufacturing jobs proved her criticism correct and that the pact undermines the basic structure of the American economy.
Source: Associated Press