Lucille Roybal-Allard
House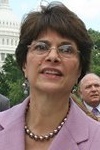 Birthdate: June 12, 1941
Birth Place: Los Angeles, CA, United States
Residence: Los Angeles, CA
Religion: Roman Catholic
First Elected: 1992
Gender: Female

Candidacy
Party: Democratic
State: California
Office: House
District: District 40

Education
Undergraduate: California State University
Degree: BA

Lucille Roybal-Allard was born Los Angeles, where she still resides. She is the oldest of three children of Rep. Edward Roybal and his wife, Lucille. She earned a bachelor's in speech therapy in 1965 from California State University-Los Angeles.
Roybal-Allard was a United Way planner before her election to the state Assembly in 1987. She was executive director of the National Association of Hispanic Certified Public Accountants and assistant director of the Alcoholism Council of East Los Angeles.
She won a special election to the state Assembly in 1987 and was re-elected twice. She was elected to the U.S. House in 1992.
Roybal-Allard and her husband, Edward, have two children and two stepchildren.
Profile
Lucille Roybal-Allard has made much of her success in winning federal funding for security and law enforcement in her district.
She argues that Los Angeles, as the country's second-largest city and home to numerous national landmarks, needs more money to protect its citizens. She has also been active in protecting the city's natural resources and helped secure millions for restoration and revitalization projects along the Los Angeles River.
In 2011, Roybal-Allard introduced legislation to curb teenage pregnancies and reduce underage drinking. She re-introduced the DREAM Act to provide a pathway for young immigrants raised in the United States to become lawful permanent residents. The legislation failed to pass the U.S. Senate in 2010.
Also in 2011, she sponsored a bill that would raise the minimum age for field work in the U.S. from 12 to 14 years. It also seeks to create penalties for labor infractions against young field workers and reduce their exposure to pesticides.
Roybal-Allard voted for the 2010 health care reform bill. She also helped pass the 2009 Omnibus Appropriations Act that included millions of dollars in federal funds for health, transportation, infrastructure, crime reduction, education and job training programs in her district. She was appointed by House leadership to serve on the conference committee tasked with negotiating the measure's final spending agreement.
Roybal-Allard has succeeded in obtaining federal money to beef up the Los Angeles Police Department's anti-terror efforts and increase security at the Port of Los Angeles.
She sponsored a 2008 bill to reform immigration detention procedures. She was among the 15 California House Democrats who voted against the initial $700 billion financial industry bailout package in September 2008, defying the wishes of House Speaker Nancy Pelosi.
Roybal-Allard voted in 2009 for the approximately $800 billion economic stimulus plan backed by President Barack Obama.
She voted against a House resolution declaring the world a safer place following the war in Iraq and against a bill that added a prescription drug benefit to Medicare. She has sponsored legislation to improve the health and well-being of women and children, including measures to help reduce birth defects and assist victims of domestic violence.
Congress in 2006 passed Roybal-Allard's STOP Act, which coordinates all federal programs to combat underage drinking in communities. She introduced a series of bills in 2007 dealing with victims of domestic violence, sexual assault and stalking. The proposed legislation would prohibit discrimination in insurance coverage, provide job protection and guarantee unemployment insurance.
Roybal-Allard is the daughter of the late Edward Roybal, a former congressman and city councilman who represented the Hispanic neighborhoods of East Los Angeles for more than four decades.
Source: Associated Press