Luis V. Gutierrez
House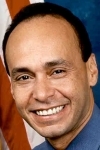 Birthdate: Dec. 10, 1953
Birth Place: Chicago, IL, United States
Residence: Chicago, IL
Religion: Roman Catholic
First Elected: 1992
Gender: Male

Candidacy
Party: Democratic
State: Illinois
Office: House
District: District 4

Education
Undergraduate: Northeastern Illinois University
Degree: BA

Luis V. Gutierrez was born in Chicago, where he still resides. After graduating from Northeastern Illinois University in 1975 he worked as a teacher, social worker, community activist and for Chicago Mayor Harold Washington.
He was elected Alderman of Chicago's 26th Ward in 1986 and while on the City Council, he worked for affordable housing, tougher ethics rules and a law to ban discrimination based on sexual orientation.
He was elected to the U.S. House in 1992.
Gutierrez and his wife, Soraida, have two daughters.
Profile
Chicagoan Luis V. Gutierrez says he knows what it's like to be an immigrant.
Although they were Americans when his parents left the island of Puerto Rico to come to the mainland United States his family faced many challenges similar to those of immigrants: They didn't speak English and were treated like foreigners. So when Gutierrez got to Congress in 1993, he wanted help make this transition easier for others.
"I want to be a spokesperson for people that are new to this country," he said.
Now in his ninth term representing Illinois' 4th District, Gutierrez has done exactly that.
The Democrat remains a national leader in the push for federal immigration reform, having been arrested for civil disobedience, including at the White House in 2010 over Arizona's immigration law. In late 2011, he became one of a handful of congressmen who began testing the practicality of President Barack Obama's administration's new approach to deportations to help people stay who are in the country illegally.
Gutierrez also flirted with a run for mayor of Chicago in 2010, when then-Mayor Richard Daley retired after 22 years in office. However, he dropped out of the race, saying he would be more effective as a leader for immigration reform.
Gutierrez has pushed for more English language proficiency programs and citizenship workshops. In an effort to cast the issue in a "moral perspective," he helped organize rallies in 17 cities in February and March 2009 that focused on the ways immigration law can harm families, particularly those in which some members are citizens and some aren't.
After Obama's election to president, Gutierrez was mentioned as a possible replacement for Obama's Senate seat and he spoke to former Gov. Rod Blagojevich about the appointment. But Gutierrez says he made clear that he would serve only temporarily and not seek a full Senate term if appointed, and Blagojevich ruled him out for that reason.
Gutierrez was an original sponsor of legislation to ban some semiautomatic assault weapons and lobbied to increase the minimum wage. He has also worked on citizenship education and English language proficiency programs.
In 2001 he was among 180 people arrested for trespassing during protests against a Navy bombing on Vieques Island. Gutierrez claimed he was mistreated during the arrest, but the Navy said security acted with restraint in all cases. Gutierrez was sentenced to three hours in prison and six months probation.
Gutierrez also helped pass an amendment to cap the interest on payday loans made to military families and give them protection against some lenders. It was signed into law in 2006.
Gutierrez voted for the health care reform bill in March 2010, though he took exception to a provision that doesn't allow undocumented immigrants to buy health insurance in the exchanges. "I believe this is counter to public health and to justice," he said.
Source: Associated Press