Lynn Acton Westmoreland
House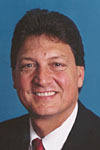 Birthdate: April 2, 1950
Birth Place: Atlanta, GA, United States
Residence: Newnan, GA
Religion: Baptist
First Elected: 2004
Gender: Male

Candidacy
Party: Republican
State: Georgia
Office: House
District: District 3

Education
Undergraduate: Georgia State University
Degree: Attended

Lynn Westmoreland was born in Atlanta and resides in Newnan, Ga. He is a builder from Atlanta's southern suburbs and studied at Georgia State University.
He started a home building business in the 1970s and made a small fortune.
He first ran for office in 1988, losing a bid for state Senate.
He was elected to the state House in 1992. He rose to Republican leader in 2000, before stepping down from the leadership post in 2003 to run for Congress.
He was elected to the U.S. House in 2004.
Westmoreland and his wife, Joan, have three children.
Profile
Lynn Westmoreland has developed an outspoken reputation as one of the most conservative members of Congress since winning his seat in 2004.
It's served him well in Georgia's 3rd District, where Westmoreland easily defeated two Republican challengers _ Chip Flanegan and Kent Kingsley _ in the July 2012 primary, winning with 71 percent of the vote. Westmoreland is running unopposed in the fall general election.
He serves as vice chairman of redistricting for the National Republican Congressional Committee.
In July 2012, Westmoreland supported the passage of the Domestic Energy and Jobs Act. Included in the act was a Westmoreland sponsored amendment. "This regulation by the Department of Energy has the potential to affect up to 8,500 jobs across the United States," stated Westmoreland. "And almost 1,200 of those jobs are in my district in Georgia."
In April 2009, Westmoreland briefly considered running for governor to fill Perdue's soon-to-be-vacant seat. But he decided against the 2010 race saying he planned to remain in Congress "where I think I can make a difference as a legislative fighter."
Westmoreland voted against President George W. Bush's $700 billion bailout for financial institutions in October 2008, as well as the 2009 approximately $800 billion economic stimulus package backed by President Barack Obama.
He helped lead a GOP revolt over energy prices in 2008 as Republicans sought to force Democrats into a vote on offshore oil and gas drilling. He staunchly supported the Bush administration on the war in Iraq and routinely votes against even popular spending provisions.
Westmoreland has at times been forced to back away from harsh language. During the 2008 presidential campaign, he raised eyebrows by referring to Barack and Michelle Obama as "uppity." He later said he did not realize the word was commonly used during segregation as a derogatory term for blacks seeking equal treatment.
Two years earlier during a national debate over torture of terrorism suspects, he told guests at a Douglas County Chamber of Commerce luncheon that he "voted for torture" and that "we need to get information out of these people the best way we can."
He led House opposition in 2006 to renewing the 1965 Voting Rights Act, which he argued treats Southern states unfairly based on decades-old discrimination. He also was one of only two House members who opposed giving the Justice Department more money to crack unsolved civil rights killings, arguing that the FBI could address the cases without new funding.
During his state legislative career, Westmoreland was widely credited with energizing Republicans in the Legislature and coining the term "Think Majority" to pump up the GOP, which has been a minority in the Georgia House since Reconstruction.
When Georgia elected its first modern Republican governor, Sonny Perdue, in 2002, Westmoreland quickly clashed with him. Perdue called for two tax increases soon after taking office: a higher tobacco tax and an end to a property tax exemption.
Westmoreland's firm opposition to both helped defeat the property tax rollback, although the tobacco tax hike eventually passed.
He was very popular in the Georgia House, thought safe as Republican leader as long as he wanted the job, and a probable speaker if the GOP ever took control of the chamber.
Even Democrats liked Westmoreland, with Democratic Rules Chairman Calvin Smyre often starting his committee meetings in 2004 by updating the room on Westmoreland's fundraising prowess.
Source: Associated Press