Lynn M. Jenkins
House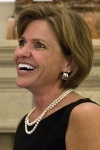 Birthdate: June 10, 1963
Birth Place: Topeka, KS, United States
Residence: Topeka, KS
Religion: Methodist
First Elected: 2008
Gender: Female

Candidacy
Party: Republican
State: Kansas
Office: House
District: District 2

Education
Undergraduate: Weber State College
Degree: BS

Lynn Jenkins was born in Topeka, Kan., where she now resides. She earned a bachelor's degree in 1983 from Weber State College.
Jenkins is a certified public accountant.
She served a single term in the Kansas House before being elected to the state Senate in 2000. She was elected state treasurer in 2002 and was re-elected in 2006.
Jenkins was elected to the U.S. House in 2008.
Jenkins is divorced and has two children.
Profile
Lynn Jenkins has worked since her first election in 2008 to build her credentials as a conservative Republican. She has aligned herself with the House GOP leadership and has become a reliable vote on budget and fiscal matters.
She has earned a lifetime 92 percent rating from the American Conservative Union, including a 100 percent mark in 2010.
In June 2012, Jenkins said that House Republicans have a plan for balancing the federal budget and reducing deficits but need help in Washington to get the job done, namely a Republican-controlled Senate and White House. She has been critical, however, of both parties for squandering opportunities to control spending while they controlled both Congress and the Oval Office.
In 2010, Jenkins won her second term by easily defeating a little-known Democrat, Cheryl Hudspeth of Girard.
Her bid for re-election in 2012 was made potentially more challenging as a result of the new district boundaries drawn by a three-judge federal panel.
The district shifted east, losing Manhattan and Riley County, home to Kansas State University and the Army's Fort Riley. State Republican leaders wanted to keep the county in the 2nd Congressional District, largely due to Jenkins' strong support for the proposed $1.14 billion National Bio and Agro-Defense Facility.
As a result of redistricting, Jenkins now represents all of Douglas County, home of the University of Kansas, and one of only three counties that President Barack Obama carried in 2008.
She faces Democrat Tobias Schlingensiepen, a pastor, in the November 2012 general election.
Her 2008 victory came after a decade-long career as a state legislator and state treasurer, during which time she managed to avoid becoming too tarred by the never-ending split among conservatives and moderates within the Kansas GOP.
The one place where her identification with moderates hurt her was on abortion, which became a major issue during the 2010 GOP primary.
Source: Associated Press