Marcia L. Fudge
House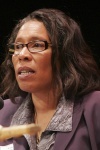 Birthdate: Oct. 29, 1952
Birth Place: Cleveland, OH, United States
Residence: Warrensville Heights, OH
Religion: Baptist
First Elected: 2008
Gender: Female

Candidacy
Party: Democratic
State: Ohio
Office: House
District: District 11

Education
Undergraduate: Ohio State University
Degree: BA

Graduate: Cleveland State University
Degree: JD

Marcia Fudge was born in Cleveland and lives in Warrensville Heights, a Cleveland suburb. She earned a bachelor's in business administration from Ohio State University in 1975 and a law degree from Cleveland State University in 1983.
She served as chief of staff to Democratic Rep. Stephanie Tubbs Jones of Ohio, and was the first black woman elected mayor of Warrensville Heights. She served as mayor from 2000 to 2008, when she was elected to the U.S. House in a special election to succeed the late Tubbs Jones.
Fudge is single.
Profile
Marcia Fudge, who is unopposed in her 2012 re-election bid in Ohio's largely Democratic 11th District, has focused in Congress on issues including health and nutrition, education, urban investment, job creation and voting rights.
The Democratic congresswoman was called as the lead witness in May 2012 before a hearing of the Senate Judiciary subcommittee on the Constitution, civil rights and human rights. He testimony was regarding voting rights and she said that states around the nation had erected barriers to voting rights.
"This sophisticated, organized and well-funded effort is sweeping across America," she said. "From Ohio to Wisconsin, down to Florida and across to Texas, the franchise is under attack."
Fudge said that one of her highest priorities was ensuring that every American has the opportunity to vote.
Fudge hosted a news conference in July 2011 with members of Congress and numerous civil rights organizations to draw attention to voting measures that had passed or were pending in legislatures across the nation and that she said were restrictive.
She opposed the House-approved version of the Violence Against Women Act in May 2012 that she said weakened protections for victims of spousal or partner abuse
"I cannot support a measure that chooses to protect some women and not others," she said.
Focusing on the issue of hunger, Fudge assailed an Agriculture Committee proposal in April 2012 to cut food stamps while leaving farm subsidies intact.
"We'd rather pay farmers millions of dollars not to grow crops than to feed children," she said.
Fudge joined in a bipartisan effort with Republican Congressman Steve LaTourette to introduce a plan that could help struggling cities demolish abandoned buildings. They introduced the proposed Restore Our Neighborhoods Act in March 2012.
In 2011, she sponsored the proposed National Infrastructure Bank Act aimed at helping target deficient bridges, school repairs, and other dangerous infrastructure that she said also would provide a way for Americans to get back to work.
The congresswoman also hosted a job fair in Cleveland in August 2011 to connect employers with potential employees.
Fudge says she remains committed to preserving Medicare, Medicaid and Social Security and continued to speak out against attempts to decrease services for beneficiaries and make Medicare a voucher program.
The representative fasted for a day in 2011 with 26 other members of Congress and Hungerfast, in opposition to the GOP budget cuts that she said threatened vulnerable communities in America.
Source: Associated Press