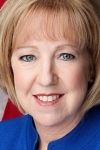 Birthdate: March 16, 1955
Birth Place: Rochester, NY, United States
Residence: Webster, NY
Religion: Catholic
Gender: Female

Candidacy
Education
Maggie Brooks was born in Rochester, N.Y., and lives in the Rochester suburb of Webster. She graduated with a bachelor's degree from Ithaca College.
Brooks, in 2003, was the first woman elected to serve as Monroe County executive, and she twice won re-election.
She entered politics in 1995 after a broadcasting career that included 10 years as morning anchor at WHEC-TV in Rochester, followed by a year as vice president of programming for Companion Radio in nearby Penfield.
Brooks won her first attempt at public office, defeating an incumbent for a seat in the Monroe County Legislature. After a year in office, Gov. George Pataki appointed her county clerk and she was twice re-elected.
Brooks is married to Robert Wiesner. She is the mother to two daughters.
Profile
Maggie Brooks is said to be one of two women known by their first name in the western New York district she's running in. The other is her opponent, incumbent Rep. Louise Slaughter, who was elected to Congress in 1986.
Brooks was the first woman to be elected Monroe County executive and has been re-elected twice. A previous 10-year career as a television news anchor made her a household name in the Rochester market before that.
The Maggie vs. Louise race in the redrawn 25th District gives the Democrat, Slaughter, a voter registration advantage, but Brooks faced such a disadvantage when she was elected to a third term as county executive.
Brooks is campaigning on the idea that the country could learn from the county, pointing to its success in avoiding property tax increases during her time as county executive.
She said her priorities in Congress would be to cut the debt and deficit, create jobs, "and secure a stronger America for our children's and grandchildren's generations."
She cited her endorsement by the U.S. Chamber of Commerce as confirmation of her job-creating credentials.
As part of a five-point plan for her first term, Brooks said she would work to repeal the 2010 health care reform bill.
Her to-do list also includes implementing a plan to balance the federal budget, privatize Amtrak, streamline government and slash red tape to help employers.
When asked in a newspaper interview if she would vote in favor of Rep. Paul Ryan's budget proposal, she declined to commit, calling it "a conversation starter."
She is most comfortable talking about her position on financial issues, rather than social issues.
In 2011, she said she supported Democratic Gov. Andrew Cuomo's push for a property tax cap, but was reserved when asked about his other two top priorities: gay marriage and stronger ethics laws.
She told the Democrat & Chronicle newspaper of Rochester: "The other two issues aren't relative to the county level of government. The property tax cap is."
Brooks said she raised more than $521,000 in the second fundraising quarter of 2012, an amount that kept her competitive with Slaughter, who reported that her campaign raised $530,000 in the period.
Source: Associated Press