Mario Rafael Diaz-Balart
House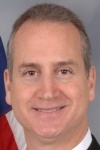 Birthdate: Sept. 25, 1961
Birth Place: Fort Lauderdale, FL, United States
Residence: Miami, FL
Religion: Roman Catholic
First Elected: 2010
Gender: Male

Candidacy
Party: Republican
State: Florida
Office: House
District: District 25

Education
Undergraduate: University of South Florida
Degree: BA

Mario Diaz-Balart was born to Cuban refugee parents in Fort Lauderdale, Fla., and now lives in Miami. He earned a bachelor's in political science from the University of South Florida.
Diaz-Balart is president of Gordon Diaz-Balart and Partners, a public relations and marketing firm. He was elected to the Florida House in 1988 and to the state Senate in 1992. He left the Senate due to term limits and was again elected to the state House in 2000.
Diaz-Balart was elected to the U.S. House in 2002.
His older brother, U.S. Rep. Lincoln Diaz-Balart, announced in February 2010 that he would not seek re-election in the neighboring 21st Congressional District, and Mario Diaz-Balart decided to seek his brother's seat.
Diaz-Balart and his wife, Tia, have a son.
Profile
Mario Diaz-Balart helped lead 2012 congressional hearings into the management of federal properties and why the government has been slow to sell or find other uses for 14,000 empty or underused buildings.
He was also vocal on issues related to Cuba, including opposition to the visa that was granted to Cuban President Raul Castro's daughter in May 2012. He pushed the White House to work to prevent Cuba from exploring for oil off its north shore.
In 2011, he tried to slip language into a spending bill that would have created tougher travel restrictions for Cuban-Americans seeking to visit relatives on the communist island.
Diaz-Balart has only sponsored one bill in the 2011-2012 Congress, a measure that creates a financial benefit for states hit by disasters if they have a strong building code.
After his election to Congress, Diaz-Balart was a loyal supporter of President George W. Bush's foreign policy. At a 2003 rally to support U.S. troops in Iraq and oppose any opening of relations with communist Cuba, he joined Rep. Ileana Ros-Lehtinen, to lead the crowd of 3,000 in chanting Bush's name.
He joined his brother, then-Rep. Lincoln Diaz-Balart, and Ros-Lehtinen in denouncing Libya's appointment to head the U.N. Commission on Human Rights.
Diaz-Balart was one of five U.S. representatives who in 2008 lobbied Bush to grant temporary legal status to Venezuelans living illegally in the United States because of alleged political persecution.
He took credit in 2003 for sponsoring an amendment included in a spending bill for the Interior Department that prevents federal agencies from cutting off money for Everglades restoration without approval from congressional appropriations committees if Florida is accused of failing to abide by its half of a joint cleanup plan. The state and federal governments each have pledged $4 billion.
In 2010, Diaz-Balart sponsored the Commuter Aid and Relief for Suburbs Act, which would allow commuters to write off commuting expenses from their taxes.
Source: Associated Press