Mark Allan Takano
House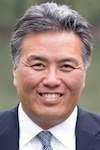 Birthdate: Dec. 10, 1960
Birth Place: Riverside, CA, United States
Residence: Riverside, CA
Gender: Male

Candidacy
Party: Democratic
State: California
Office: House
District: District 41

Education
Graduate: University of California - Riverside
Degree: MFA

Undergraduate: Harvard College
Degree: BA

Mark Takano was born and raised in Riverside, Calif., where he still lives. Takano earned a bachelor's degree in government from Harvard College and a master's degree in creative writing from the University of California-Riverside.
Takano is a high school teacher who began his career working as a substitute in Boston and started teaching in the Rialto Unified School District in 1988.
He narrowly lost a bid to represent the then-43rd Congressional District in 1992 at age 31.
Takano has served on the Riverside Community College District's Board of Trustees since 1990 and was elected Board President in 1991.
Profile
Mark Takano lost a congressional bid by a razor-thin margin in 1992 and is trying his chances again in the race to represent California's newly drawn 41st Congressional District in Riverside County, east of Los Angeles. The 41st District has no incumbent following the 2011 redistricting.
Takano, a public school teacher in Rialto, has never held federal office but has been involved in local politics for nearly two decades after returning to his hometown in 1988 to teach.
In 1992, at age 31, he narrowly lost the race for California's then-43rd District to Republican Rep. Ken Calvert.
Locally, as a member of the Riverside Community College's Board of Trustees, Takano helped the district emerge from fiscal challenges and helped oversee the transition of two of the district's campuses into independent colleges.
He also has held board positions in the Greater Riverside Urban League and the California Riverside Ballet.
Takano says that if elected he will focus on securing funding to boost infrastructure development in his district and will work to protect Medicare.
He also supports ending the "No Child Left Behind" law, letting the tax cuts for high income Americans expire and favors an expansion of existing federal programs aimed at helping struggling homeowners.
Source: Associated Press