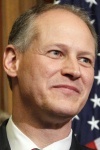 Birthdate: Jan. 5, 1962
Birth Place: Irwin, PA, United States
Residence: Johnstown, PA
Religion: Catholic
First Elected: 2010
Gender: Male

Candidacy
Education
Mark Critz was born and raised in Irwin, Pa., and now resides in Johnstown. He earned a bachelor's degree in management information systems from Indiana University of Pennsylvania in 1987.
Critz worked on campaigns for Democratic Rep. John Murtha, joining Murtha's office in 2001 as a district aide and eventually becoming district director before Murtha died in February 2010.
Critz won the special election three months later to fill the remainder of his boss' term.
Critz is a member of the Johnstown Oldtimers Baseball Association, an organization that holds the city's annual All-American Amateur Baseball Association tournament.
He and his wife, Nancy, have a son and daughter who are twins.
Profile
Mark Critz is facing his third congressional election in less than three years.
Critz won a special election in March 2010 for the seat previously held by Democratic Rep. John Murtha, who died in February 2010 from complications after gallbladder surgery. Critz had been an aide to Murtha.
In November 2012, Critz faces Republican Keith Rothfus for Pennsylvania's 12th Congressional District seat.
In the April 2012 Democratic primary, Critz was forced to run against another incumbent in a district redrawn by state Republican lawmakers following the 2010 census. He defeated U.S. Rep. Jason Altmire, who formally endorsed Critz in May 2012.
Altmire and Critz both boasted of helping small businesses and advocating for veterans' affairs. Both were criticized by unions for voting against the 2010 health care reform package.
Rothfus narrowly lost to Altmire in 2010, 49 percent to 51 percent, but that was in a race for the former 4th District, which includes more conservative suburbs north of Pittsburgh.
As such, it would appear Rothfus might have more trouble campaigning in the newly-drawn 12th District, especially in the Johnstown end of the district that's long been a Murtha, and now Critz, stronghold.
Critz said he opposed the version of the 2010 health care reform bill passed by Congress, though he said he would not support a repeal.
In 2010, Critz largely ran on Murtha's record, which centered on his key role on the House Appropriations Defense Subcommittee, which enabled Murtha to deliver defense contracts and jobs to businesses in his blue-collar district, where a highway, airport and medical center are named for Murtha.
On the legislative front, Critz has been heavily involved in efforts to keep President Barack Obama's administration from closing two key federal facilities in western Pennsylvania.
Critz has been part of a bipartisan coalition that, so far, has kept the Defense Department from closing the 911th Airlift Wing near Pittsburgh. The Defense Department recently agreed to reconsider the issue in 2013.
Critz wasn't so fortunate when it came to the National Drug Intelligence Center in Johnstown, which Congress voted to close in November 2011.
Murtha fought to bring the center to his hometown in 1993, even though critics from both parties argued its work was duplicated in other agencies.
NDIC once had more than 300 employees and contract personnel, but had fewer than 200 when it was closed in June 2012 over Critz's objections.
Critz has stated that he will fight to protect domestic jobs by ending tax breaks for companies that ship jobs overseas and reform trade bills that endanger American jobs.
Source: Associated Press