Mark Randall Meadows
House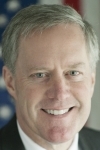 Birthdate: July 28, 1959
Birth Place: Bradenton, FL, United States
Residence: Cashiers, NC
Religion: Baptist
Gender: Male

Candidacy
Party: Republican
State: North Carolina
Office: House
District: District 11

Education
Undergraduate: University of South Florida
Degree: BA

Mark Meadows was born in Bradenton, Fla., and raised near Tampa. He currently resides in Cashiers, N.C. He received a bachelor's degree in business management from the University of South Florida.
He owns Highlands Properties, a real estate company specializing in construction and land development. He previously opened and operated a restaurant.
He served as Macon County Republican Party chairman, on the Republican Party Executive Committee and as a delegate to both the North Carolina and national Republican conventions.
Meadows and his wife, Debbie, have two children.
Profile
Mark Meadows is seeking public office for the first time, running in 2012 for North Carolina's 11th Congressional District seat, which is being vacated by retiring Democratic Rep. Heath Shuler.
Meadows won a July 2012 Republican primary runoff and will face Democrat Hayden Rogers, Shuler's chief of staff in the November 2012 general election.
A tea party favorite, Meadows has keyed in on job creation while stating he would cut taxes, spending and regulations.
He has said he would immediately work to repeal the 2010 health care reform bill if elected.
Meadows grabbed national headlines in June 2012 when he made comments during a tea party forum questioning whether President Barack Obama was born in the United States.
"We'll send him back home to Kenya or wherever it is," Meadows said.
Meadows has since backpedaled from those comments, but has not completely distanced himself from the birther movement. Birthers are people who doubt that Obama was born in the United States and say he therefore does not have the legal right to be president.
Meadows opposes abortion and same-sex marriage.
Source: Associated Press